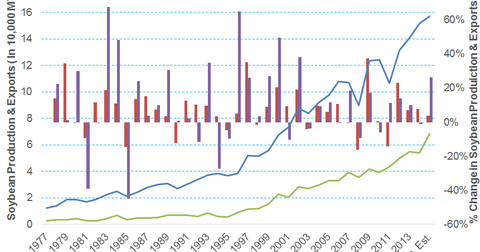 Soybean Prices Could Rise amid Anticipated Unfavorable Weather Conditions
By Sean Brown

Updated
Soybeans in South America
The US is the top producer of soybeans. But the second and third positions are held by Brazil and Argentina, respectively. Over the last five years, these countries' production and exports rose by approximately 21.9% and 37.9%, respectively, and according to analysts in the area of production, the increased use of genetically modified seeds and improving facilities for the agriculture sector—which have been supported by weather conditions in the area—have resulted not only in higher production but also in production growth.
Article continues below advertisement
Chart indications
Production is thus growing in Argentina and Brazil, and with this increase in production, soybean exports have also begun to increase. The difference between the production line and exports line gives us an idea of domestic usage in these countries as well. Soybean seeds are used to produce soybean meal and soybean oil, and exports of these products have also increased by approximately 39.6% and 106.5%, respectively, over the past fifteen years of increases in production.
Updates on the South American soybean
Soybean is a crucial crop for producers in South American countries. The Argentinian 2015 election had a huge impact, after both the presidential candidates announced a supportive export tax policy for soybean seeds and soybean products. After the election, President Macri shared a vision that Argentina would be the industrial hub for soybean production in his speech, following an export tax reduction for soybeans and soybean products by 5%. Analysts also project that soybean production will likely rise rapidly with the progressive export tax reduction.
Article continues below advertisement
Meanwhile, the Brazilian State Mato Grosso accounts for over 33% of total Brazilian soybean production, according to USDA data for fiscal 2014. At the same time, weather conditions in the state have been dry for nine consecutive weeks. Analysts believe that further dry forecasts could hurt the output projections from Brazil. While there has been extremely dry weather in northern Brazil, too much moisture in southern Brazil's and Argentina's soybean producing regions have caused rust problems. This could impact export numbers directly, reducing competition for countries like the US.
Reading the impact on fertilizer companies
Fertilizer companies such as Potash (POT), Intrepid Potash (IPI), Mosaic (MOS), and Agrium (AGU) would likely benefit from supportive soybean price progress in the near term. That said, the Material Select Sector SPDR ETF (XLB) would also likely remain in the limelight following the positive price movements that are anticipated.
Now let's look at corn.