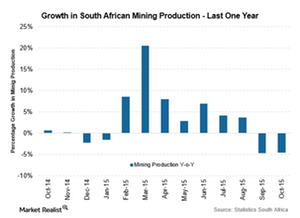 South African Rand Nears Record Lows
By David Meyer

Updated
South African rand falls as mining data disappoints
The South African rand fell to record lows against the US dollar on December 8, 2015, as a slew of disappointing macroeconomic data brought the currency down. The current account deficit widened sharply to $165 billion in the third quarter versus a gap of $124 billion in the previous quarter as sales of foreign goods went up while export growth deteriorated.
On the other hand, gold production fell in October by 7.5% against a decline of 1.8% in the previous month. Mining production contracted in October by 4.6% on a YoY (year-over-year) basis, which was below expectations that predicted a fall of 3.9% but marginally above September's contraction of 4.7%. On a monthly basis, however, mining production was up by 1.8% in October against a 4.0% decline in September.
Article continues below advertisement
Manufacturing production fell
South African manufacturing production for October fell by 2.1% on an annual basis versus an increase of 1.2% in the previous month and expectations of a 0.75% contraction. On a monthly basis, manufacturing production contracted in October by 1.7% against an anticipated decline of 0.30%.
Reduction in sovereign credit rating and debt outlook
Credit rating agency Fitch downgraded South African debt to BBB-, which is one notch above junk status. The agency cited growth performance and weakened estimates of growth potential to be the primary drivers. Also, Standard & Poor's lowered its outlook on the country's debt to negative from stable. These rating downgrades were responsible for pulling the South African rand lower by 1.4% on December 7, 2015. The upcoming FOMC (Federal Open Market Committee) meeting in December could put further downward pressure on the South African rand in case of a rate hike, which would lead to huge capital outflows.
Impact on the market
The iShares MSCI South Africa ETF (EZA) fell by 0.64% on December 8, 2015. The ETF, which has been undergoing a free-fall, has exhibited a fall close to 12.2% since November 24, 2015.
South African mining ADRs (American depositary receipts) were trading on a mixed note. AngloGold Ashanti (AU) fell by 1.5% while Sibanye Gold (SBGL) rose by 3.0%. Also, Harmony Gold (HMY) rose by 2.8% while Sasol (SSL) fell by 0.92%.