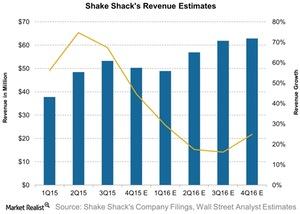 Shake Shack's Revenue Growth Expected to Decelerate in 2016
Shake Shack's revenue
For a company such as Shake Shack (SHAK), revenue is more important at this point as opposed to other financial metrics such as EBITDA (earnings before interest, tax, depreciation, and amortization) or EPS (earnings per share). This is because Shake Shack's revenue has more visibility compared to EBITDA or EPS.
Article continues below advertisement
Estimates
SHAK's management's guidance for revenue in 2015 is between $189 million and $190 million. With just one quarter left for the year, 4Q15 revenue is estimated to be in the range of $49.5–$50.5 million based on management's guidance. Wall Street analysts are estimating the company to report revenue of $50.3 million, so the management's guidance deviation ranges from -1.9%–0.01%.
However, in each of the first three quarters of 2015, Shake Shack beat analysts estimates by an average of 12%. This may mean that the company's management has been conservative in their guidance, but it's helpful to see further into the future, to 2016.
2016 guidance
Wall Street analysts are estimating SHAK's revenue to be $241.3 million in 2016. Shake Shack's management is anticipating revenue in the range of $237 million–$242 million. Breaking the 2016 estimates on a quarterly basis, revenues for 1Q16, 2Q16, 3Q16, and 4Q16 are estimated to come in at $48.9, $56.9, $61.8, and $62.8 million, respectively.
A bigger part of the company's revenue is estimated to come in the second half of 2016, since most of its unit additions will happen in the second half of 2016.
You can access restaurant stocks through the Consumer Discretionary Select Sector SPDR ETF (XLY). XLY's portfolio consists of holdings of 4% in McDonald's (MCD), 3% in Starbucks (SBUX), and 1.5% in Yum! Brands (YUM).
The above guidance and estimates are clearly hinting that Shake Shack's revenue growth is expected to decelerate in 4Q15 and in 2016.