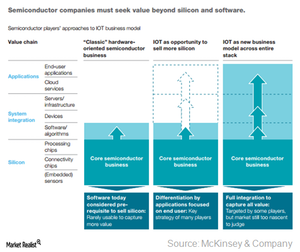 Semiconductor Companies' Internet of Things Leverage Strategies
By Puja Tayal

Updated
IoT-related acquisitions
In this series, we've looked at the key growth drivers of the semiconductor industry and the role of IoT (Internet of Things) in semiconductor growth. Adoption of this trend saw 39 IoT-related companies being acquired in 2015 for a combined consideration of $14.8 billion, according to 451 Research. Some of the biggest deals included the NXP Semiconductors (NXPI) Freescale merger and the Intel (INTC) Altera (ALTR) merger.
Every growth brings its own set of challenges. While IoT is very promising, semiconductor companies have much to do in order to leverage this trend.
Article continues below advertisement
Key challenges
A joint study by McKinsey and the GSA (Global Semiconductor Alliance) has listed down some key challenges faced by IoT semiconductor manufacturers:
Data privacy – An increasing amount of data generated from connected devices has created the challenges of securing user data and maintaining privacy.
Lack of standardization – There is a lack of standardization in the workings of connected devices. Intel and Qualcomm (QCOM), through their respective consortiums, are battling to get their proposed IoT standards approved.
Fragmented demand – Many industries require application-specific products. However, there is no large demand for these products, making it unfeasible to build chips for targeted consumers.
Suggested strategies for semiconductor companies
A PricewaterhouseCoopers report has listed some strategies to enable the semiconductor industry to overcome the above-mentioned challenges:
Develop IoT product strategy – A business should develop a product strategy that either offers select semiconductors such as sensors or connectivity across multiple applications, or offers all semiconductors for a particular application. For instance, Micron (MU) offers memory products across multiple applications.
Offer complete IoT solutions – A company should offer solutions beyond devices by including software and applications. It could create a SolidWorks Application Programming Interface, allowing developers to design and build applications as per their requirements.
Define ecosystem strategy – The industry has to determine whether to build a new platform for IoT and encourage other peers to adopt it or to use existing technology. Once the platform is in place, the semiconductor companies have to collaborate with customers to develop integrated solutions that best match their business needs. Intel is working with Levis and Honeywell on its IoT platform.
Some companies are adopting these strategies to tap the IoT space. The Technology Select Sector SPDR ETF (XLK) has exposure to the semiconductor supply chain and its customers. It has a 3.2% exposure to INTC.