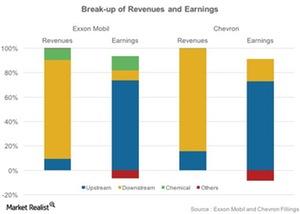 How Segment Dynamics Affect Integrated Energy Companies
By Maitali Ramkumar

Updated
Upstream and downstream segments
To understand integrated energy majors, it is imperative to study the major segments that affect their health. Upstream and downstream operations affect the revenues and earnings for energy firms in a surprisingly different manner.
We will start by analyzing the dynamics of segment contributions in Exxon Mobil (XOM) and Chevron (CVX).
Article continues below advertisement
Upstream is the main contributor to earnings
In 2014, Exxon Mobil (XOM) derived ~90% of its revenues from its downstream and chemicals segments, whereas the upstream segment contributed only ~10% to its revenues. However, the dynamics reverse in terms of earnings. When revenues from divisions pour down to the bottom line, the upstream segment drastically outperforms the downstream segment. Upstream contributes ~85% of the company's total earnings, and the downstream segment contributes the rest. This clearly indicates the importance of the upstream segment in an integrated oil company.
The upstream segment's contribution to earnings also suggests that operating margins in oil exploration and production are significantly higher than in the refining segment.
Similarly, for Chevron (CVX), downstream constitutes a significant portion of the sales pie. But when it comes to earnings, upstream is the clear winner, contributing ~88% to the company's profits. In 2014, BP (BP) and Royal Dutch Shell (RDS.A) received ~92% and ~89%, respectively, of their total revenues from their downstream segments.
Segment dynamics during oil price volatility
During the reign of low oil prices, segment dynamics come into play. The downstream segment supports total earnings when the upstream segment takes a backseat. On the other hand, during periods of high oil price and low refining and petrochemical margin, upstream segment drives earnings. Thus, vertically amalgamated segments mitigate the impact of oil price volatility in integrated energy companies.
The iShares US Energy ETF (IYE) has a ~35% exposure to Exxon Mobil and Chevron. In the next part, we will drill down further to understand the value drivers for the upstream and downstream businesses.