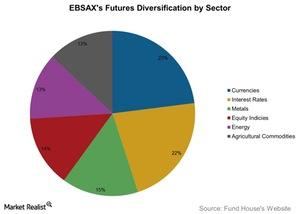 A Sectoral Holding Analysis of EBSAX
By Ivan Kading

Dec. 29 2015, Updated 10:06 a.m. ET
Trend-following quantitative trading strategies
The Equinox Campbell Strategy Fund Class A (EBSAX) employs Campbell & Company's managed futures program through the fund's wholly-owned subsidiary. According to the fund's prospectus, the fund makes use of computerized quantitative trading strategies driven by the scientific analysis of technical, macro, and econometric data to identify trends and relationships occurring within and across markets and asset classes globally.
Article continues below advertisement
Portfolio breakdown
The above graph gives the sectoral portfolio breakdown of EBSAX as of October 31, 2015. The wholly owned subsidiary of EBSAX primarily applies the trend-following managed futures strategy. The fund's holdings consist of forward contracts of different currency pairs. Among equity indexes, the fund consists of future contracts of the AEX (Amsterdam Exchange) index, the EURO STOXX 50 Index, the Hang Seng Index, the S&P 500 (VFINX), and others. The Hang Seng Index, a significant index of Hong Kong, includes holdings such as Tencent (TCEHY), CNOOC (CEO), PetroChina (PTR), and HSBC Holdings (HSBC). Futures contracts in interest rates, metals, energy, and agricultural commodities are also included in EBSAX's portfolio.
Fixed income portfolio
The fund holds a major portfolio of fixed-income securities such as bonds and notes of various corporations and the federal government. As of November 30, 2015, 85.3% of EBSAX's net assets are invested in government securities, including 364-day Treasury bills and two-, five-, and seven-year Treasury notes. In addition to that, the fund includes subsidiary holdings of Goldman Sachs (GS) and JPMorgan Chase (JPM). We'll analyze the effect of adding EBSAX to your portfolio in the next article.