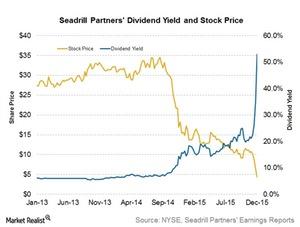 Seadrill Partners' High Dividend Yield: Too Good To Be True?
By Sue Goodridge

Updated
High dividend yield
Investors interested in high dividend yield stocks have always looked out for companies such as Seadrill Partners (SDLP). The company has a very attractive current dividend yield of 52.9% as of December 11, 2015. With such a yield, investors can recoup their investments through dividends in about two years. Is such an attractive investment too good to be true?
Article continues below advertisement
Stock performance
Seadrill Partners has experienced one of the greatest falls in its stock price. Its stock price crashed by 33% in the span of five days on December 11, 2015. This single-day fall was 17.5%.
OPEC's (Organization of the Petroleum Exporting Countries) decision that it wouldn't cut oil production makes the offshore drilling industry outlook bleaker. This has weighed negatively on all offshore drillers (IYE). In the last five days, Seadrill Partners' peers gave the following stock returns:
Series overview
Slumping oil prices have put offshore drillers (XLE) under financial pressure. The first victims of this pressure are dividends. Seadrill, the parent company of Seadrill Partners, was the first offshore driller to eliminate dividends last November to preserve cash.
Thereafter, many other offshore drillers either eliminated or cut their dividends. The only exception was Seadrill Partners, which has not cut but raised its distributions. Will this continue, or will Seadrill Partners eventually follow its peers?