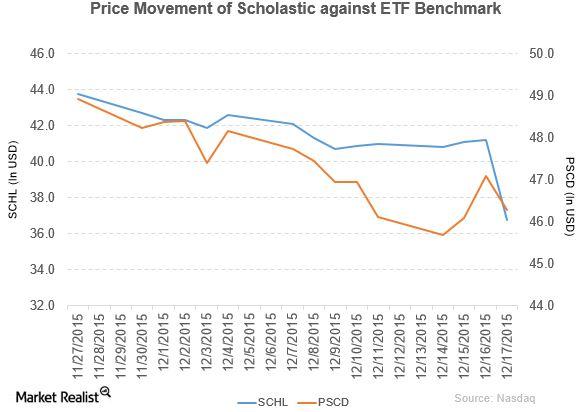 Scholastic's Revenue and Income Fell in Fiscal 2Q16
Scholastic Corporation's price movement
Scholastic Corporation (SCHL) has a market cap of $1.3 billion. After the company's fiscal 2Q16 earnings report, SCHL fell by 10.8% to close at $36.76 per share in yesterday's trade. SCHL's price movements on weekly, monthly, and YTD bases are -10.0%, -6.7%, and 2.5%, respectively.
Technically, the stock has broken the support and is trading below all moving day averages. Currently, SCHL is trading 12.3% below its 20-day moving average, 10.1% below its 50-day moving average, and 11.9% below its 200-day moving average.
Article continues below advertisement
The PowerShares S&P SmallCap Consumer Discretionary Portfolio (PSCD) invests 1.2% of its holdings in Scholastic. The ETF tracks a cap-weighted index of consumer staples stocks selected from the S&P SmallCap 600 Capped Consumer Discretionary Index. The YTD price movement of PSCD is -6.6%, as of December 16, 2015.
Scholastic's (SCHL) competitors and their market caps are listed below:
Scholastic's performance in fiscal 2Q16
Scholastic (SCHL) reported fiscal 2Q16 revenue of $601.8 million, a fall of 1.5% when compared to its revenue of $611.1 million in fiscal 2Q15. Revenue from the company's children's book publishing and distribution and education segments rose by 1.3% and 3.1%, respectively, and revenue from its international segment fell by 12.7% in fiscal 2Q16, as compared to revenue in fiscal 2Q15. The company's operating income fell by 5.2% in fiscal 2Q16, as compared to fiscal 2Q15.
Its net income and EPS (earnings per share) fell to $64.9 million and $1.84, respectively, in fiscal 2Q16, as compared to net income and EPS of $68.5 million and $2.05, respectively, in fiscal 2Q15.
Meanwhile, the company's cash and cash equivalents rose by 44.2%, and inventories fell by 9.5% in fiscal 2Q16 on a quarter-over-quarter basis.
Yesterday, Scholastic's board of directors authorized the repurchase of up to $200 million of its common stock through a modified Dutch auction tender offer.
Projections
The company has provided the following revisions to its outlook for fiscal 2016:
Total revenue of ~1.65 billion from ~$1.7 billion
EPS from continuing operations of $1.35 from a range of $1.35–$1.55
Free cash flow in the range of $35–$45 million, excluding the one-time tax paid on the gain from the sale of its EdTech business