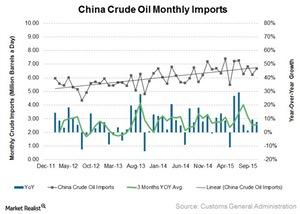 More Russian Crude Oil in China Benefits Tanker Industry
By Sue Goodridge

Jan. 3 2016, Updated 10:05 a.m. ET
China crude oil imports
Crude oil imports from China in November rose to 6.7 MMbpd (million barrels per day) from 6.2 MMbpd in the previous month. The crude oil imports were 7% higher compared to November 2014.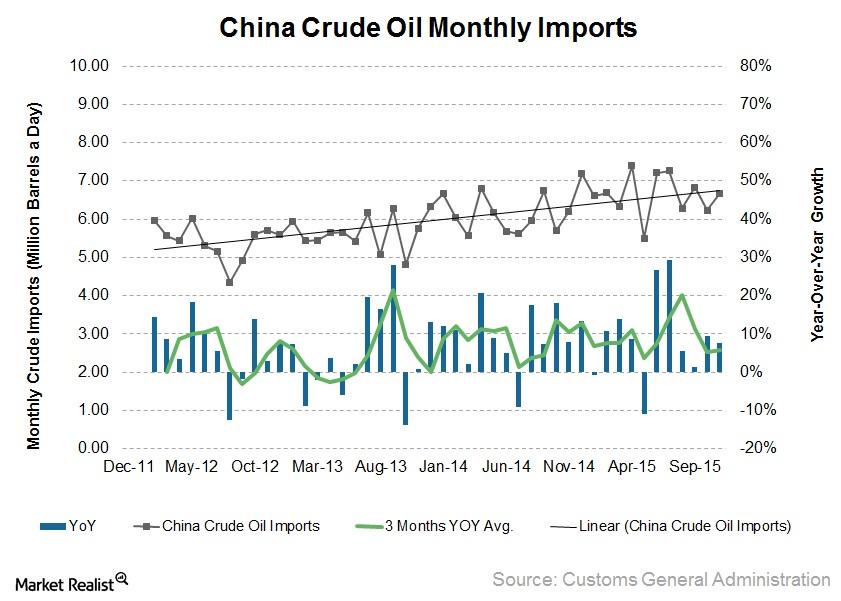 Article continues below advertisement
Importance of China imports
China is one of the largest importers of crude oil. A change in Chinese crude oil imports has a key impact on tanker demand and rates, which affect crude tanker companies such as Frontline (FRO), Nordic American Tankers (NAT), Teekay Tankers (TNK), Euronav (EURN), DHT Holdings (DHT), and Tsakos Energy Navigation (TNP).
China is shifting suppliers
In November, Russia overtook Saudi Arabia as the top crude oil supplier for the third time this year. For China's new importers, teapot refineries, Saudi crude is less appealing when compared to Russian grades according to industry reports. Also, the reports suggest that cheaper freight costs for Russian crude were helping Russia to boost its exports to China.
The trend of higher Russian crude imports is expected to continue. The distance from Russia to China as compared to Saudi to China is almost double. A longer route increases the ton-mile-demand, which benefits the tanker industry.
Article continues below advertisement
Why imports are rising
China (FXI) (MCHI) is taking advantage of low oil prices and filling its strategic reserve, which has increased crude oil imports. China has now given license to its teapot refineries to import crude oil, which is now an added factor for its crude imports. Refineries are buying at low crude prices and exporting surplus refined fuel.
Will the imports keep on rising?
Phase two of China's strategic petroleum reserve consists of nearly a dozen sites and is currently under construction. All sites are expected to be completed by the end of 2015. With the completion of these sites, China's crude imports are expected to increase further.