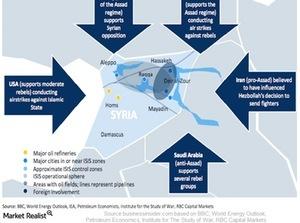 Russia and Saudi Arabia Play Hide and Seek in Syria
By Rabindra Samanta

Dec. 17 2015, Updated 11:37 a.m. ET
Syria could be a game changer 
Saudi Arabia and Russia both differ in Syria. Saudi Arabia pressured Russia (RSX) to withdraw its support of Bashar al-Assad—Syria's president. It lowered crude oil prices. However, the formula didn't work. Russia is still engaged in Syria. Russia's presence in Syria is a serious threat to Saudi Arabia. There's already cut-throat competition in the crude oil market. This continuously increases the geopolitical tension. It will also impact Saudi Arabia's budget deficit. It supports other rebel groups in Syria to minimize Iran and Russia's influence. Saudi Arabia also poses an imminent threat from Houthis in Yemen. Experts think that Syria is only the starting point. If Russia enters Yemen, then Saudi Arabia's oil transportation could collapse.
Article continues below advertisement
Experts think that Russia's presence in Syria could provoke Saudi Arabia to cut production. It would do this to raise crude oil prices to support its expenditure over other rebel groups in Syria and to continue fighting in Yemen. Moreover, Indonesia (EIDO) rejoining OPEC (Organization of the Petroleum Exporting Countries) also strengthens Saudi Arabia in Southeast Asia. This increases the rivalry between the two countries. Gazprom PAO (OGZPY), Lukoil (LUKOY), and Tatneft (OAOFY) don't have direct exposure to the nations in southern Asia.
Complex political tension in Syria
The civil war in Syria made Russia and Iran closer. Russia supports Bashar al-Assad on political grounds. Iran supports him on religious grounds. Assad's regime is backed by the Shia community. In contrast, Iran is a Shia-dominated country. This development makes Russia infiltrate among the internal politics in the Middle East and OPEC.
The above chart explains foreign countries' point of view about Syria.
The US was moderate. It's conducting strikes against ISIS (Islamic State of Iraq and Syria). After Russia's engagement in Syria, US-led allies think that Assad should leave in order to maintain peace in the country. After the terror attack in Paris, other European nations (FEZ) are also engaged in a war with ISIS.
In the next part, we'll analyze how Russia entering Yemen would impact crude oil.