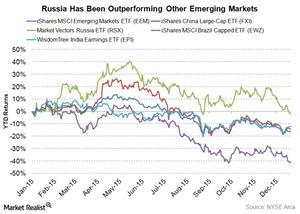 Russia Beat Emerging Markets despite Oil, Sanctions, and War
Undeterred by oil, sanctions, or war
Russia, the world's largest country by size, has been making the headlines for more than a year now. Since mid-2014, we've been hearing about a variety of unfavorable impacts on the Russian economy.
We've heard about the oil slide impacting Russia's export revenue, the sanctions imposed by the West impacting inflation in the Russian economy, and the war in Syria acting as a further drain on the limited resources Russia has at its disposal.
Article continues below advertisement
Russia is outperforming emerging markets
The VanEck Vectors Russia ETF (RSX) and the Direxion Daily Russia Bull 3X ETF (RUSL) track Russian equity. Contrary to what many may expect, these exchange-traded funds have had a good run in 2015 relative to other emerging market (EEM) (VWO) nations such as Brazil, India, and China.
So far in 2015, we've seen Russian equity outperforming other emerging market economies, as shown in the chart above. Russian equity (RSX) is up, with a 3.6% return YTD (year-to-date) with respect to Brazil (EWZ), India (EPI), and China (YINN), which are down by 41.1%, 9.8%, and 12.2%, respectively.
China and Brazil deeply impacted, Russia is resilient
So, how has the capital market favored Russia, while it hasn't spared either China or Brazil? Russian equity seems to have been quite resilient to the global market turmoil—especially to the oil price slump, which has a direct and negative bearing on the Russian economy.
On the other hand, equity markets in China and Brazil have been impacted. China is facing an economic slowdown marked by low demand conditions and an industrial recession, while the government in Brazil is still looking for a way to revive the economy from its stagflation. Economic indicators from Russia don't paint a rosy picture, either. However, investors have still shown some faith in prospects from investing in the region.
In the next article, let's take a look at the fund flows to Russia.