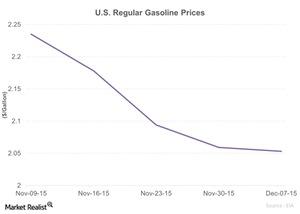 Rising Crude Oil Production Caused Gasoline Prices to Fall
By Manu Milan

Updated
Gasoline prices
In its weekly gasoline and diesel fuel updates released on Monday, December 7, the EIA (U.S. Energy Information Administration) reported that US regular gasoline retail prices averaged $2.05 per gallon on December 7. The gasoline retail prices fell slightly by 0.2% from the previous week's price of $2.06 per gallon recorded on November 30.
On December 7, the gasoline prices were 8.1% lower than the prices recorded on November 9. They were ~23.4% lower than the prices in the same period last year.
Article continues below advertisement
Gasoline prices by region
The regular gasoline retail prices fell slightly in all of the regions except in the Midwest region. The gasoline prices in the West Coast region were $2.53 per gallon on December 7. The Rocky Mountain, Midwest, and East Coats regions' gasoline prices were $2.01 per gallon, $1.89 per gallon, and $2.07 per gallon, respectively. The Gulf Coast region's regular gasoline retail prices were $1.81 per gallon on December 7.
Will gasoline prices move below $2?
Gasoline prices fell more than 8% within a month and more than 23% within a year. This represents weak demand or excess supplies. However, a rise in the demand for gasoline on November 26 didn't contribute to the gasoline prices. This represents how strongly the oversupply influenced the gasoline prices.
Currently, crude oil supplies are estimated to be 2 MMbpd (million barrels per day) more than the requirement. OPEC's (Organization of the Petroleum Exporting Countries) decision to maintain the same production levels added to more glut in the crude oil markets. This could make the prices of petroleum products worse including gasoline. Due to excess pumping of crude oil into the market, refiners should operate at the maximum operable capacity. This could result in refined products' inventory builds. When inventory builds are larger than the storage capacity, obviously it impacts the prices. So, analysts are expecting gasoline prices to fall more. They could reach below $2 per gallon in the short term.
Crack spread and refinery margins
The prolonged positive trend in the crack spread and lower crude oil prices contributed to refiners' revenue. However, the fall in crude oil prices decreases refineries' operational costs. Along with crude oil prices, the refined products prices are falling due to weak demand and oversupply. This has a negative impact on refiners' profitability like Tesoro (TSO), Western Refining (WNR), Phillips 66 (PSX), HollyFrontier (HFC), Marathon Petroleum (MPC), and Valero Energy (VLO). They sell their produced products at lower prices than before.
Energy investors can also get access to some of the above refining companies through ETFs like the Energy Select SPDR (XLE) and the Vanguard Energy ETF (VDE). Phillips 66 accounts for 3.2% of XLE.