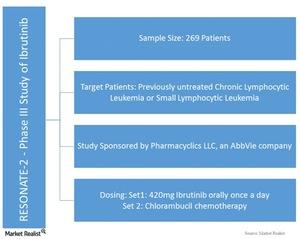 The RESONATE-2 Study for Johnson & Johnson's Drug Imbruvica
By Mike Benson

Updated
RESONATE-2 study
On December 6, 2015, Johnson and Johnson's (JNJ) subsidiary Janssen-Cilag International NV presented data from the ongoing RESONATE-2 study. This was a phase III study for ibrutinib as a monotherapy compared to the traditional chemotherapy treating patients with treatment-naive chronic lymphocytic leukemia as well as small lymphocytic leukemia, as well as relapsed or refractory multiple myeloma. Ibrutinib is the international non-proprietary name for the drug while Imbruvica is its trade name.
Imbruvica is a drug co-developed by Cilag GmbH International, a Johnson & Johnson subsidiary, and Pharmacyclics, a subsidiary of AbbVie (ABBV). The drug is co-marketed by Janssen Biotech and Pharmacyclics in US markets but is only marketed by Janssen elsewhere.
Janssen describes ibrutinib as a first-in-class Bruton's tyrosine kinase (or BTK) protein inhibitor that blocks BTK protein, thereby reducing the number of cancer cells. It's also observed for slowing down the growth of cancer.
Article continues below advertisement
Details about the study  
RESONATE-2 is a randomized phase III study of ibrutinib for patients with untreated chronic lymphocytic leukemia (or CLL), and small lymphocytic leukemia (or SLL). It's the first phase III head-to-head study for ibrutinib versus chlorambucil chemotherapy for previously untreated CLL or SLL.
Additionally, RESONATE-2 is a second phase III study, sponsored by Pharmacyclics. The study has a sample size of 269 patients who were above 65 years of age and had untreated CLL or SLL. During the study, a set of patients were treated with 420 milligrams of ibrutinib orally once a day, while the other set of patients were treated with a chlorambucil chemotherapy dosage of 0.5 to 0.8 mg/kg (milligrams per kilogram) on days 1–15 for each 28-day cycle, up to 12 cycles.
The primary endpoint was progression-free survival while the secondary endpoints included overall response rate and overall survival.
Companies including Novartis (NVS), Celgene (CELG), Amgen (AMGN) and Pfizer (PFE) compete with JNJ. Investors can consider ETFs like iShares US Healthcare Providers ETF (IHF) or the iShares US Pharmaceuticals ETF (IHE) to divest the risk.