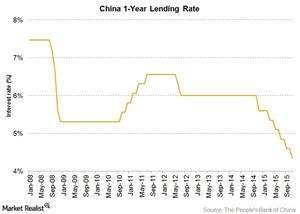 What Reforms Led the Yuan into the SDR Basket?
By Surbhi Jain

Updated
Recognition of the reforms
Christine Lagarde, managing director of the IMF (International Monetary Fund), said that "The addition and inclusion of the renminbi in the SDR (Special Drawing Rights) basket is recognition of the significant reforms that have been conducted, of the significant opening up of the Chinese economy (FXI) (YINN), of the financial more market-driven principles that are being used by the Chinese authorities going forward." Let's discuss this more.
Article continues below advertisement
Reforms that led the yuan into the SDR basket
Authorities in China (ASHR) have been working towards providing easier global access to the Chinese currency markets. The steps include building trading hubs in Europe (EZU) (VGK), increasing the yuan trading hours, reporting its reserves to the IMF, and the opening up onshore bond and currency markets to foreign central banks.
We saw a higher frequency of debt issuance, mainly increased issuance of the renminbi-denominated bonds and commodity contracts, directed towards increasing the usage of the yuan.
The yuan was devalued by 4.4% against the dollar as part of a new method for setting the yuan's daily trading range. The process made the yuan more responsive to market forces—a key pre-requisite for the IMF to grant it the reserve currency status. The devaluation led to increased volatility in the foreign exchange markets with respect to the yuan. This triggered massive payoffs in yuan-denominated debt. Also, investors moved their currency holdings from the yuan to other currencies. They feared more devaluation.
As a result, the PBoC (People's Bank of China) pumped over $100 billion into the Chinese economy in August alone to increase the yuan. Being more market driven would certainly lend more efficiency to the yuan, though at the cost of control that the authorities in Beijing have always exercised over their currency and financial system.
In the next part, we'll discuss the implications of being a reserve currency for the Chinese yuan.