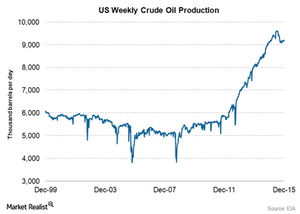 Record US Crude Oil Production: Boon or Bane?
US crude oil production 
The EIA (U.S. Energy Information Administration) reported that US weekly crude oil production rose by 10,000 bpd (barrels per day) to 9.18 MMbpd (million barrels per day) for the week ending December 11, 2015, compared to the previous week.
In contrast, US production fell by 38,000 bpd to 9.16 MMbpd for the week ending December 4, 2015, compared to the previous week. The latest monthly data projected that US September month crude oil production was at 9.4 MMbpd.
Article continues below advertisement
Why they are producing at record levels?
US monthly production peaked at 9.6 MMbpd in April 2015. It was the highest US production since the 1970s. US crude oil production hit record highs between 2010 and 2014 due to triple-digit crude oil prices, availability of cheaper credit facilities, and technological advancement.
The United States is the largest consumer of crude oil. It was previously dependent on countries in the Middle East for crude oil. Higher oil prices between 2010 and 2014 and the availability of cheaper credit facilities motivated the United States to investigate the opportunity to be self-sufficient.
The United States was successful and started producing more crude oil. The record surge in US production saw global oversupply begin to creep into the oil market. As a result, the boon for the US market became a bane for the global crude oil market. Oversupply has led to a crash of more than 60% in the oil market since June 2014.
Article continues below advertisement
Sustainability
The crash in oil prices saw US production fall from its peak of 9.6 MMbpd in April 2015 to 9.4 MMbpd in September 2015. Current WTI prices are at $35 per barrel. Lower oil prices impact the oil production sustainability of US shale oil producers such as Continental Resources (CLR), Whiting Petroleum (WLL), Apache (APA), and EOG Resources (EOG).
US shale operators such as WLL and CLR have scaled up production by 25% and 38%, respectively, in 3Q15 despite lower oil prices. Better planning and productivity, technological and efficiency improvements, lower drilling costs, employee layoffs, and spending cutbacks could support US oil producers' ability to sustain the current crude oil meltdown, sailing them safely to an era of better oil prices.
Cash-strapped small and independent oil companies could be crushed or acquired by larger oil companies. Larger oil companies could see earnings downgrades for the next couple of years.
Impact
The higher break-even and production costs of US shale operators will subject them to lower crude oil prices. This is the strategy of Saudi Arabia and Russia. We'll check out how they've fared in the depressed energy market in the next part of this series. The EIA estimates that US production could slow to 8.8 MMbpd in 2016 compared to 9.3 MMbpd in 2015.
ETFs such as the iShares US Oil Equipment & Services ETF (IEZ), the Vanguard Energy ETF (VDE), and the First Trust Energy AlphaDEX ETF (FXN) are also affected by uncertainty in the oil market.