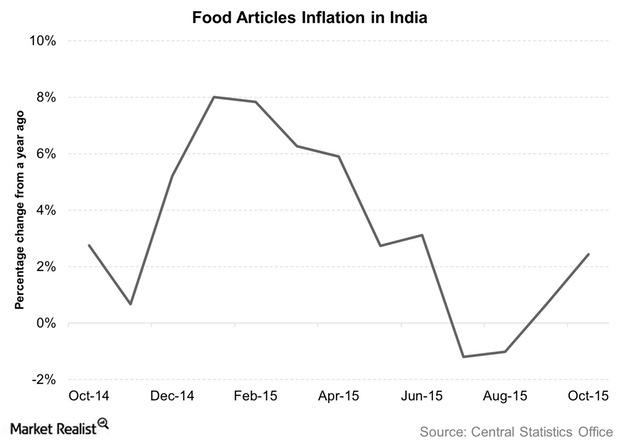 How Does the RBI Expect CPI Inflation to Pan Out?
By David Ashworth

Dec. 3 2015, Published 9:39 a.m. ET
Where's the CPI inflation headed?
In the last part, we looked at how CPI (consumer price index) inflation led to the RBI (Reserve Bank of India) standing firm on the repo rate. The RBI's assessment was that the CPI inflation would rise after September—based on the fact that the base effect, which has kept it down, would wear off.
From here on, the RBI expects the CPI inflation to rise more until December 2015 before it starts to flatten again.
Article continues below advertisement
Reasons for the assessment
Apart from the decline of a favorable base effect, one of the reasons that the CPI inflation increased was because of a rise in food prices, especially pulses. The food articles inflation, which goes into calculating the WPI (wholesale price inflation), is shown in the graph above.
In its December policy statement, the RBI said that although a seasonal moderation in fruit and vegetable prices may provide some relief to inflation going forward, a shortening of the winter season due to El Niño may reduce this respite. El Niño is the ocean-atmosphere climate interaction linked to a warming in the sea surface temperatures across the central and east-central Equatorial Pacific. It usually leads to a warmer-than-usual winter.
The scanty monsoon in some regions, which led to low reservoir levels, along with early indications of rabi sowing may indicate a shortfall in the rabi crop. This would push food prices up. It would cause the CPI inflation to rise. The rabi crop season in India lasts from October to March. It's one of the two crop seasons in India.
The RBI expects crude oil prices (COP) (CVX) (RDS.B) to remain low for a few more quarters, except for geopolitical shocks. However, a rise in the core CPI inflation, which excludes food and fuel prices, for two consecutive months is an event that requires attention, according to the RBI.
Investors in India-focused mutual funds the ALPS|Kotak India Growth Fund – Class A (INDAX) and the Franklin India Growth Fund – Class A (FINGX) should watch inflation closely. India-focused funds have financials at their core. The sector is sensitive to the interest rate. If the CPI inflation looks like it might breach the RBI's target, the central bank may be forced to take policy action. This would impact banks and financials. It would impact these funds.
Another reason that led to the RBI staying put on the repo rate was India's economic growth. We'll discuss this in the next part of the series.