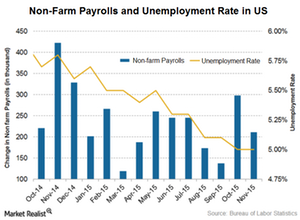 Rate Hike or No, the Fed Will Affect Precious Metals
By Meera Shawn

Updated
Fed concerns
The United States remains the largest world market when it comes to determining the prices of commodities in the way of changes in their rate of interest. US markets have been under an expansionary phase since 2008, and quantitative easing has caused the interest rates to fall to a zero level. Then rates are unable to budge until the Fed decides so. As happens, the FOMC (Federal Reserve Open Market Committee) has an upcoming policy meeting on December 15–16 and seems to have all the attention of the market participants.
Article continues below advertisement
2015 has been the year where the Fed has long been talking about the liftoff. If the rates are hiked, then that would be the first time after nine and half years since the Fed last pushed the interest rate up. Investors were carefully watching the data from the economy for hints of strength, as that could lead to a rise in rates. Lower inflation numbers and a slack in the labour markets had initially been a cause of concern.
October's hawkish stance
However, as the numbers are getting better, and Fed members, including the Fed's Chair Janet Yellen, have been citing a rise in rates since the start of the year. The probability of a liftoff seems high for the next meeting. The strength in numbers of the economic data from the country aside, the Fed may raise the rates to save its credibility, especially after the hawkish stance it took in October.
Precious metals may get allergic to such a hike as the rise in rates will curb the non-interest bearing assets' appeal to investors. The higher-than-zero rates will pull more investors, leaving precious metals in a draught. The likely fall in precious metals may also be replicated by ETFs that are based on precious metals, like the SPDR Gold Shares (GLD) and the iShares Silver Trust (SLV). Mining-based companies like Kinross Gold (KGC), Eldorado Gold (EGO), and Hecla Mining (HL) may also plunge due to likely falls in metals.
Let's look at what outcomes the upcoming Fed meeting could have in our next article.