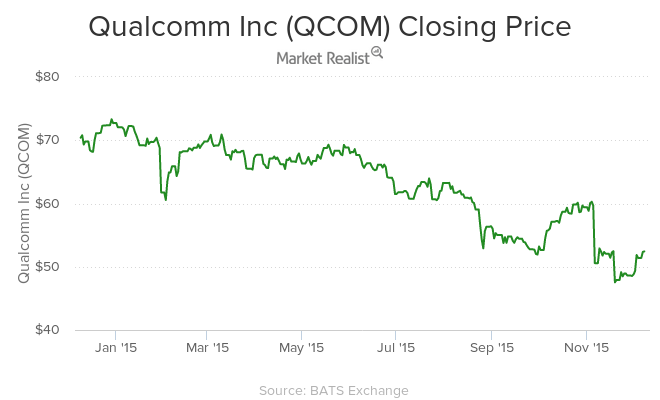 Qualcomm's Shares Fall as EU Launches Antitrust Charges
By Puja Tayal

Dec. 4 2020, Updated 10:52 a.m. ET
Qualcomm faces antitrust charges in the EU (European Union)
Qualcomm (QCOM), a leader in the mobile semiconductor space, has been hit by yet another antitrust accusation, but this time by the EU's (VGK) competition authority. This led the company's shares to fall by 5.6% to close at $49.48 on December 8, 2015. The company settled a similar charge from China earlier this year. It is likely to face similar charges from Taiwan, South Korea, and the United States, which are currently studying the company's licensing model.
[marketrealist-chart id=879832]
Article continues below advertisement
Details of the antitrust charge
The EC (European Commission) has issued two charge sheets—one for predatory pricing and one for exclusivity payments—and has given Qualcomm until April 2016 to respond to the charges. The company can also ask the regulator for an oral hearing to state its case in more detail.
The EC stated that Qualcomm is guilty of making exclusivity payments since 2011. Allegedly, the company illegally paid a huge amount of cash to an unnamed major customer for exclusively using its chips. The EC also accused the company of practicing predatory pricing between 2009 and 2011, during which time the company sold its chips below cost in order to put Nvidia's (NVDA) European subsidiary Icera out of business.
The charges come after British cell phone chip maker Icera launched a complaint with the EC about Qualcomm's anticompetitive behavior in June 2010. The investigation began in July 2015 after Nvidia shut down its Icera business. Margrethe Vestager, the European commissioner for competition, stated, "I am concerned that Qualcomm's actions may have pushed out competitors or prevented them from competing."
Possibility of a fine
If Qualcomm is found guilty, it would face a fine of 10% of its fiscal 2015 revenue of $25 billion, which equates to ~$2.5 billion. Although a charge may not result in a fine, it would negatively impact Qualcomm's licensing business, which accounts for more than 50% of the company's profits. We'll explore the impact of these probes on the company's profits later in this series.
In 2009, the EC ended a two-year antitrust probe of Qualcomm for charging high royalties for 3G (third generation) technology. The EC has also been actively probing companies such as Google (GOOG), Amazon (AMZN), and Apple (AAPL).