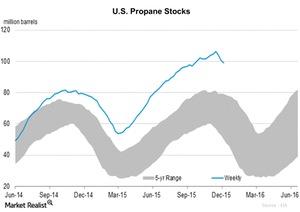 Propane Inventories and Production Moved in Opposite Directions
By Manu Milan

Jan. 8 2016, Updated 12:19 a.m. ET
Propane inventories
The EIA's (U.S. Energy Information Administration) heating oil and propane update was released on December 16, 2015, and reported that US propane inventories fell by 1.68 MMbbls (million barrels) for the week ended December 11 compared to the week ended December 4. As of the week ended December 11, propane inventories were at 98.9 MMbbls. These levels were 20.58 MMbbls, or 26.2%, more than they were in the corresponding period last year.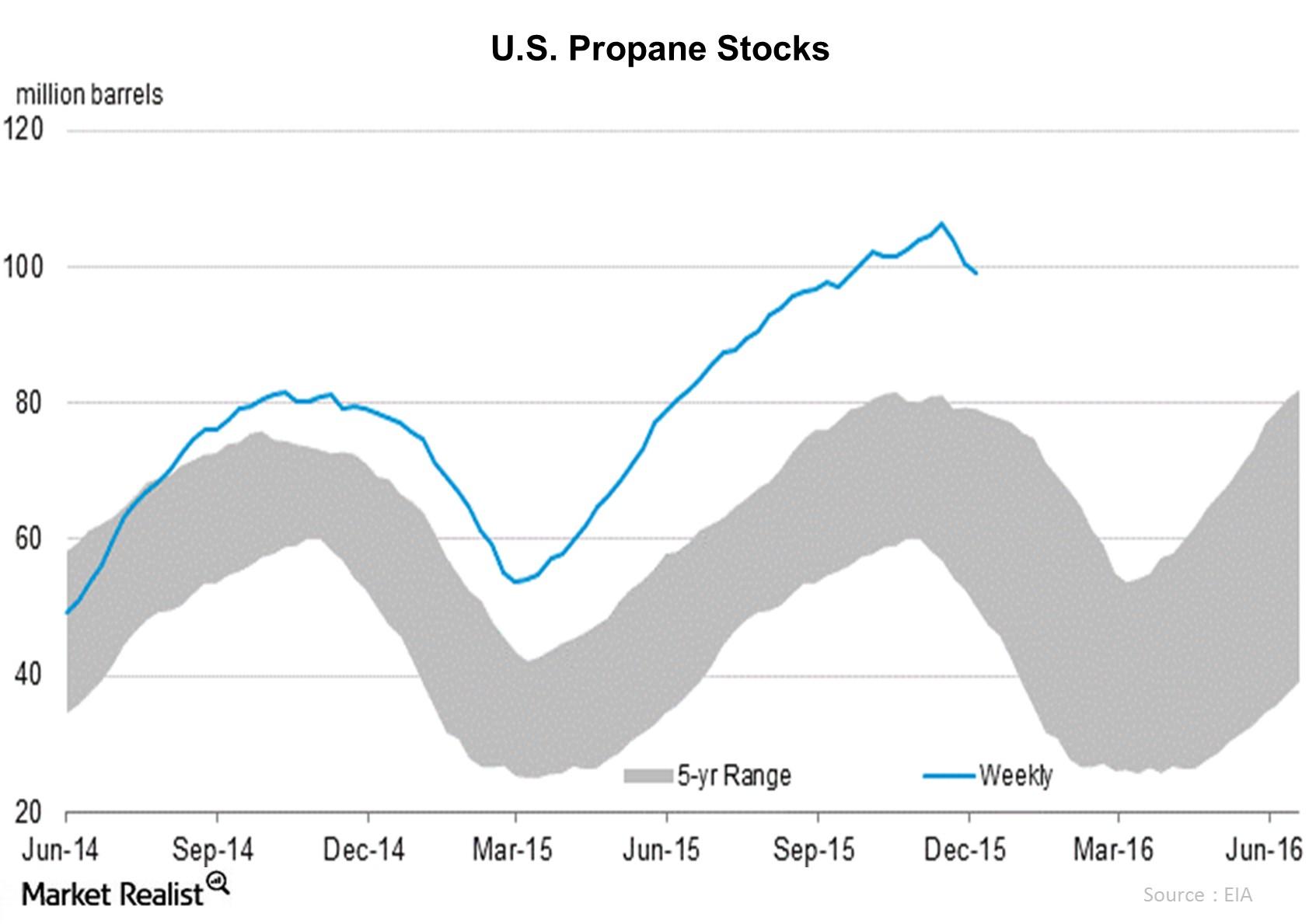 Article continues below advertisement
Propane production
US propane production rose for the week ended December 11, 2015, to around 1.70 MMBpd (million barrels per day) compared to the week ended December 4, when it was about 1.67 MMBpd. These levels were ~2.9% lower than production levels in the corresponding week last year.
What does this mean?
The fall in inventories indicates more demand for propane or fewer days of propane supplies. Propane production levels were lower than last year's production levels because of massive inventory builds. In turn, the builds were due to a long-term positive trend in the crack spread and lower crude oil prices. This increased refinery margins. So, refineries operated at maximum operable capacity and led to inventory builds.
For the week ended December 11, the propane days of supply were 78.9, or 7.6 days of supply less than for the week ended December 4. Because of fewer supply days, propane production rose last week.
The fall in propane inventories is bullish for propane prices. When prices increase, the revenues of the propane producers and distributors go higher too, raising the profitability of propane producers and distributors such as Suburban Propane (SPH), Ferrellgas Partners (FGP), NGL Energy Partners (NGL), and AmeriGas Partners (APU).
APU makes up 1.4% of the First Trust North American Energy Infrastructure ETF (EMLP).
Find more updates on propane prices in the next part of this series.