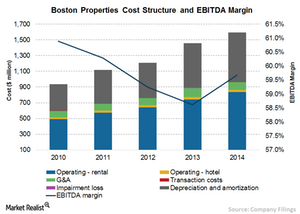 Boston Properties' Cost Structure, EBITDA Margin, and Other Must-Knows
By Peter Barnes

Updated
Cost structure
Boston Properties (BXP) consolidated costs were $1.6 billion for fiscal 2014—up by 12.1% over 2013. This came on the heels of a 25.7% rise in total costs in 2013. Property operating expenses comprised 52.4% of the company's total costs, followed by depreciation and amortization at 39.4%, and G&A (general and administrative) expenses at 6.2%.
Article continues below advertisement
Same property portfolio expenses
The same property portfolio operating expenses increased by 4.1% to $692.1 million in 2014 over the previous year. The rise in operating expenses was mainly due to an increase in real estate taxes in the Washington, D.C. and New York regions. In addition, an increase in repairs and maintenance expense in the Boston and New York CBD buildings and the Washington, D.C. region also led to a rise in operating expenses.
Depreciation and amortization expenses for the same property portfolio increased by 1.2% to $469.4 million in 2014 over 2013. The rise in depreciation expenses in 2014 was primary due to rise in properties acquired during the year.
Boston Properties' EBITDA margin
Boston Properties recorded an EBITDA margin of 60.9% in 2010. This was the highest EBITDA margin recorded by the company during the past eight years. Since then, the company's EBITDA margin declined a bit to 58.6% in 2013 and 59.7% in 2014. Despite this minor dip, the company's EBITDA margin remained at an elevated level during the past five years.
The latest EBITDA margin recorded by the company was significantly higher than the industry average of 52.3%, whereas it was lower than some of its major peers. For example, Kilroy Realty Corporation (KRC) reported an EBITDA margin of 62.7%, and SL Green Realty Corporation (SLG) reparted an EBITDA margin of 60.2%. By contrast, Alexandria Real Estate Equities (ARE) reported a lower EBITDA margin of 55.4%.
The SPDR DJ Wilshire REIT ETF (RWR) invests 3.3% of its total portfolio in Boston Properties.
In the next part of this series, we'll discuss Boston Properties' FFO (funds from operations).