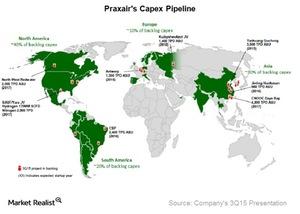 What Is Praxair's Major Revenue Growth Driver?
By Steve Ariel

Jan. 4 2016, Updated 8:05 a.m. ET
Strong project backlog
Praxair (PX) had a backlog of 24 large projects worth a total of $1.9 billion in 2014, and it currently has a total backlog of $1.6 billion. Project backlog is an important parameter for future revenue growth. On the basis of project backlog, the company builds and operates plants to supply industrial gases to its clients. Project backlog indicates the total estimated plant construction cost. Therefore, the company gives capex guidance on the basis of project backlog. The North America and Asia regions form the largest part of the project backlog. With consistent project backlog, Praxair saw a total cumulative capex of $9.0 billion between 2010 and 2014. With a higher capex, Praxair's revenues increased at a healthy CAGR (compound annual growth rate) of 5.0% to $12.3 billion in 2014 from $10.1 billion in 2010.
Article continues below advertisement
Pipeline                                         
Praxair had 18 major capex projects in the pipeline at the end of 3Q15. North America constitutes ~40% of current project backlog, followed by Asia with ~30%, South America with ~20%, and Europe with ~10%. The company has some major capacity expansion plans.
North West Redwater: With North West Redwater Partnership, Praxair is setting up a 2,000 TPD (tons per day) ASU (air separation unit) near Edmonton, Canada. The plant is expected to be completed by 2016.
Gulf Coast Expansion: Praxair is expected to spend $400 million for hydrogen and nitrogen capacity expansion and the extension of its Gulf Coast pipeline system near Freeport, Texas. The facility will primarily be used for hydrogen and nitrogen requirements of BASF and Yara International's new 750,000 TPD ammonia plant. The plant is expected to be operational by 2017.
Daya Bay: Praxair will construct and operate two 2,400 TPD ASU plants at Daya Bay, China for CNOOC (China National Offshore Oil Corporation). Expected to start up in 2017, the plants will supply oxygen and nitrogen to CNOOC's refinery and downstream operations.
Capex-to-sales ratio comparison
Industrial gas players generally have high capex-to-sales ratios as their sales are largely driven by their project backlog. Praxair has had a capex-to-sales ratio of 15% for the last twelve months, while Air Products and Chemicals (APD) has the highest capex-to-sales ratio in the peer group, with 16%. Airgas, a relatively small domestic player, has a capex-to-sales ratio of 10%. Major chemical players such as LyondellBasell (LYB) and The Dow Chemical Company (DOW) have lower capex-to-sales ratios, of 3% and 8%, respectively, in the last twelve months.
Investors can invest in the iShares US Basic Materials ETF (IYM) to get exposure to industrial gas players. Praxair forms 6% of IYM's total holdings.