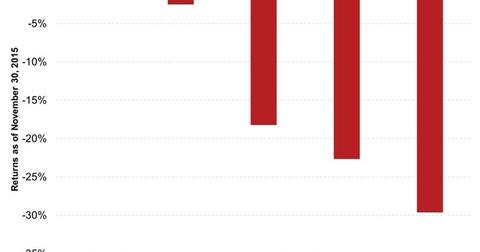 Some Positive Stock Performances Helped PRLAX in November 2015
By David Ashworth

Updated
Performance evaluation
The T. Rowe Price Latin America Fund (PRLAX) fell 1.0% in November 2015 from a month prior. This was the least among the eight funds in this review. In the three- and six-month periods ended November 30, the fund fell 2.5% and 18.2%, respectively. In the one-year period, it fell 29.6%, and from November-end until December 24, the fund fell 3.8%. In the YTD (year-to-date) period, the one we'll be analyzing, the fund has returned -22.6%.
The fund has been a very consistent performer. Except for the one-month period, in which it fell the least, the fund's performance has ranked it second among its peers.
Article continues below advertisement
Portfolio composition and contribution to returns
PRLAX has the second longest track record among the funds in this review. It was launched in December 1993. According to its latest geographical disclosure, Brazil, Mexico, and Chile are its top three invested geographies, in that order, making up 85.9% of its assets. Chile replaced Peru in third place in November.
The latest complete portfolio available for the fund is as of September 2015. Hence, we will take that portfolio as our base and consider valuation changes as they stand at the end of November 2015 for our analysis. All portfolio percentages mentioned from here on refer to their weights as per changes in valuation from September to November.
Financials have had a difficult 2015, and this showed in PRLAX's performance. The financials sector played a pivotal role in driving down the fund's returns. The preference shares of Itau Unibanco Holding (ITUB) contributed 40% of the total negative returns from the sector. Banco Bradesco (BBD) and BR Malls Participações were notable negative contributors as well. Even though Grupo Financiero Galicia (GGAL) contributed positively, the amount was too small to make a meaningful reduction to the overall negative contribution.
Article continues below advertisement
The consumer staples sector followed the financials sector in terms of negative contribution to PRLAX's returns. BRF (BRFS) and Ambev (ABEV) drove the sector down. However, substantial positive contributions from Walmart de Mexico and the sponsored ADR (American depositary receipt) of Fomento Económico Mexicano (FMX) reduced the drag on the sector substantially.
While CCR was responsible for the poor showing of the industrials sector, America Movil (AMX) and TIM Participações (TSU) drove down the telecom services sector.
Some other negative contributors included Mercadolibre (MELI), CorpBanca (BCA), and Tenaris (TS).
Reasons for strong performance
Though its top three sectors were large negative contributors to returns, some of PRLAX's stock picks were able to reduce the drag considerably, thus containing the fund's negative performance. Stock picks such as El Puerto de Liverpool and Grupo Lala, among several others, hindered further underperformance.
In the next article, let's take a look at the Deutsche Latin America Equity Fund Class A (SLANX).