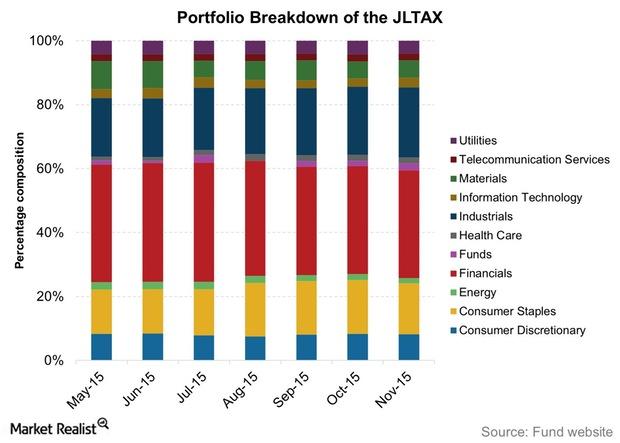 Portfolio Composition of JLTAX through November 2015
By David Ashworth

Aug. 18 2020, Updated 6:29 a.m. ET
JPMorgan Latin America Fund
The JPMorgan Latin America Fund A (JLTAX) seeks long-term growth of capital by investing "primarily in securities of Latin American issuers and other investments that are tied economically to Latin America." On occasion, the fund can hedge a part of its foreign currency exposure into the US dollar.
The fund management team uses active and fundamental research "relying less on published data and more on subjective analysis through company visits by locally based country specialists." The fund's literature clarifies that decisions about individual securities take precedence over decisions about geographic exposure. Macroeconomic research forms a framework for bottom-up security selection.
Article continues below advertisement
The fund's assets were invested across 57 holdings as of November 2015, and it was managing assets worth $62.3 million. As of its November portfolio, its top ten equity holdings included Ambev (ABEV), preference shares of Itau Unibanco Holding (ITUB), Fomento Económico Mexicano (FMX), Credicorp (BAP), and Grupo Aeroportuario del Sureste (ASR), which formed a combined 22.8% of the fund's portfolio.
Historical portfolios
For this analysis, we'll be considering holdings as of October 2015, as that is the latest available sectoral breakdown. The holdings post-October reflect valuation-driven changes to the portfolio, not the actual holdings.
The fund is invested across all ten sectors. The financials sector makes up a third of the fund's assets and is its biggest sectoral holding. Even though financials commands the largest portion of the portfolio, JLTAX's exposure to financials stocks has fallen in the past year ending November 2015. In November 2014, financials formed over 38% of JLTAX's assets. A fall in valuation is the primary reason for the fall in exposure. Fund managers have liquidated some stocks from the sector, but have added more than they have sold.
Fund managers have faith in the industrials sector, which forms the second-largest sectoral holding of JLTAX. This sectoral bet is different from its peers, most of whom have bet on the consumer staples sector. Compared to a year ago, the industrials sector now forms more of JLTAX. Fund managers have mostly stuck to their holdings from the sector, adding the B shares of Grupo Aeroportuario del Pacífico (PAC).
How has this sectoral composition impacted the fund's returns year-to-date through November in 2015? Let's look at that in the next article.