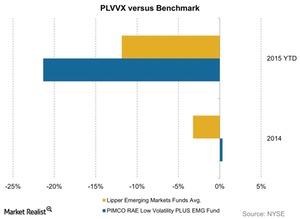 PLVVX's Multiple Strategies Bring Low Volatility, Potential Gain
By Ivan Kading

Dec. 29 2015, Updated 12:05 a.m. ET
Dual strategy portfolio
The PIMCO RAE Low Volatility Plus Emerging Fund Class A (PLVVX) is an alternative mutual fund that benchmarks its performance to the MSCI Emerging Markets Index. It constructs a portfolio based on Research Affiliates Equity (or RAE) low volatility and AR (absolute return) bond alpha strategy.
Using multiple strategies helps PLVVX have low volatility in the market with the potential to gain capital appreciation in the market. The first strategy exposes the fund to emerging market economies. The second seeks to maintain an overall portfolio duration that normally varies from negative three years to positive eight years, based on PIMCO's forecast for interest rates among other factors.
Article continues below advertisement
PLVVX versus Lipper funds
The above graph compares the current year-to-date (or YTD) and the previous year's annual return of PLVVX with the average returns of the Lipper Emerging Markets Funds. The market returns of PLVVX have failed to beat the returns of the Lipper Emerging Markets Funds.
You should also note the drastic change in the current returns of PLVVX and the Lipper funds compared to the previous year's returns. The strengthening of the dollar and the fall in crude oil prices are the primary reasons for the adverse growth in emerging markets.
Dividend yield
PLVVX's average dividend yield is 3.9%. That's 35% higher than the average dividend yield of funds with similar holdings. PLVVX declares a quarterly dividend. PLVVX's portfolio holdings include mortgage-backed and asset-backed securities of trusts such as subsidiaries of Citigroup (C), Credit Suisse (CS), Merrill Lynch (IPB), Morgan Stanley (MS), JPMorgan (JPM), and others.
In the next article of this series, we'll take a close look at PLVVX's holdings.