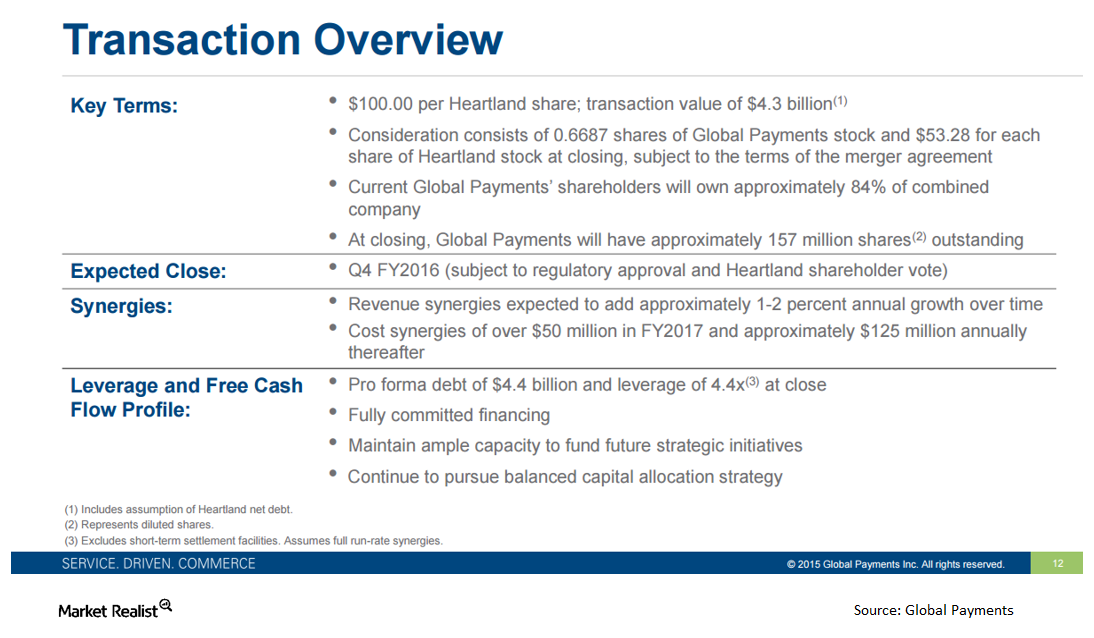 Parsing the Heartland–Global Payments MAE Clause, Part 1
The Heartland–Global Payments merger and the MAE clause
The MAE (material adverse effect) clause is one of the first things that arbitrageurs look at in a merger agreement. In the case of the Heartland–Global Payments merger, the MAE clause lays out the circumstances where Global Payments (GPN) can back out of its merger with Heartland (HPY).
Note that some companies refer to the MAE clause as a MAC (material adverse change) clause, but it's more or less the same thing. In fact, arbitrageurs always call it the MAC clause, regardless of how it's characterized in the merger agreement.
Article continues below advertisement
Paraphrasing the MAE clause
As a general rule, MAE clauses follow a similar format. Just about anything that has a material adverse effect on the company is considered a MAE, but there are exceptions to that rule.
Please note that the MAE clause has been paraphrased here to limit the legalese. You should still read and understand the actual language in the merger agreement.
"'Company Material Adverse Effect' shall mean any change, event, fact, effect, condition, development or occurrence that individually or in the aggregate with all other changes, events, facts, effects, conditions, developments or occurrences (A) prevents or materially delays or materially impairs the ability of the Company to consummate the Mergers and the other transactions contemplated by this Agreement or (B) has, or would reasonably be expected to have, a material adverse effect on the financial condition, business, assets or results of operations of the Company and its Subsidiaries, taken as a whole; provided, however, that, in the case of clause (B), in determining whether there has been a Company Material Adverse Effect or whether a Company Material Adverse Effect would occur, any change, event, fact, effect, condition, development or occurrence to the extent attributable to, arising out of, or resulting from any of the following shall be disregarded:"
In simpler words, this is the standard MAE clause: "Anything bad that happens to Heartland and delays or ruins the economics of the deal is a MAE, except for the following exceptions." The exceptions will be laid out in the following two parts of this series. Note that there is a disproportionate effect clause, meaning that one of the exceptions could still be a MAE if it affects Heartland disproportionately relative to other companies in the industry that Heartland operates in.
Merger arbitrage resources