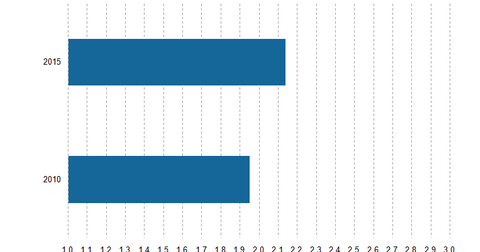 Packaged Foods at the End of 2015: What's Trending in the Industry?
By Diana Key

Updated
The packaged foods industry
According to Research and Markets, the global packaged foods market (XLP) is expected to grow at a CAGR (compound annual growth rate) of 4.5% from 2015 to 2020, reaching approximately $3 trillion. Geographically, North America is the industry's largest market, followed by Europe, the Asia-Pacific region, and LAMEA (Latin America, the Middle East, and Africa).
The global retail packaged foods market grew at a CAGR of 1.6% from 2010–2015, reaching $2.1 trillion in 2015, according to Statista.
Article continues below advertisement
According to its combined 2014 sales, the Kraft Heinz Company (KHC) is the third-largest food and beverage company in North America, after PepsiCo (PEP) and Nestlé SA (NSRGY). It is the fifth-largest food and beverage company in the world, behind Nestlé, Mondelēz International (MDLZ), PepsiCo, and Unilever Group (UN), according to Euromonitor.
Trends shaping food and beverage industry
Some of the key trends in the current food and beverage industry include the following:
The shift to natural ingredients from artificial colors and flavors—for example, Kellogg Company (K) recently announced the removal of artificial flavors.
We've seen some major industry players focus on mergers and acquisitions in the industry—for example, Kraft and Heinz, Hershey Company (HSY) and Krave, Hormel Foods (HRL) and Applegate Farms, Mondelēz and Enjoy Life Foods.
Heavy hitters in the industry are making big moves toward accurate and transparent labeling, particularly with GMOs (genetically modified organisms).
Product recalls appear to be on the rise, due to a heightened awareness of health hazards—for example, Kraft Heinz recalled more than 2 million pounds of turkey bacon after receiving spoilage-related consumer complaints.
We've witnessed greater emphasis on better-for-you snacks due to health concerns, such as an increasing demand for non-GMO, organic, and natural products.
According to a study conducted by WeiserMazars, industry trends that impacted 2013 sales included the following:
healthy and nutritious foods (31%)
private-label foods (22%)
organic foods (14%)
locally grown and locally produced foods (13%)
ethnic and international (12%)
Allergen-free and gluten-free foods  (7%)
Now let's return to Kraft Heinz and start our specific analysis of the company's business.