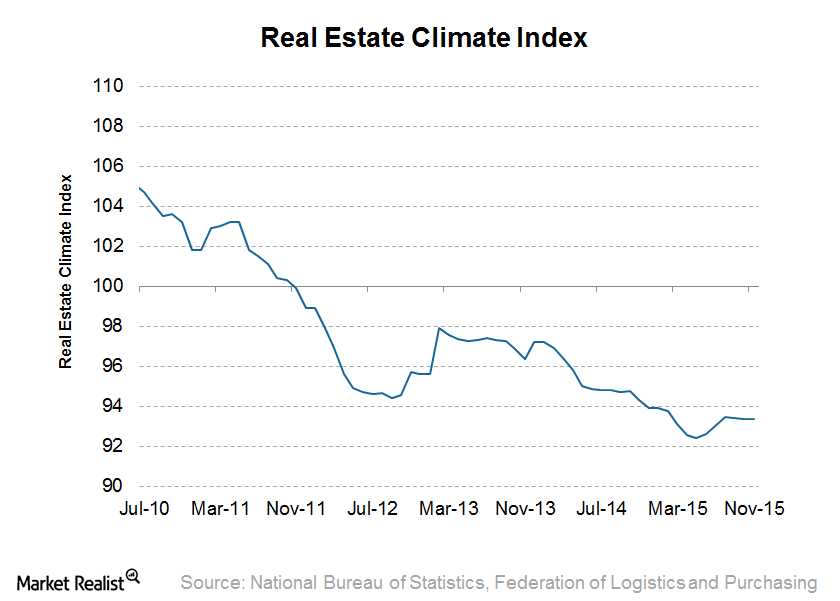 Examining the Outlook for China's Property Sector
China's real estate index
The construction sector is the biggest steel consumer in China, accounting for more than half of steel consumption in the country. Investors in iron ore companies like Rio Tinto (RIO), BHP Billiton (BHP) (BBL), Vale (VALE), and Cliffs Natural Resources (CLF) should, therefore, keep an eye on developments in China's property sector. Cliffs forms 3.7% of the SPDR S&P Metals and Mining ETF (XME).
China's real estate climate index measures the country's aggregate business activity for land and real estate. China's real estate climate index rose marginally in November, as can be seen in the chart above.
Article continues below advertisement
Building sales and floor area
In November, the building sales in China rose by 20.1% YoY (year-over-year). On a YTD (year-to-date) basis, building sales rose by 15.6%. This is higher by 0.7% compared to the first ten months of the year.
The floor area under construction by real estate development enterprises rose 1.8% in the first 11 months of the year. However, this was 0.5% lower than the first ten months of the year.
Outlook for China's property sector
China's November real estate indicators came in better than the average market expectations. This is most probably due to the supportive government policies. However, not many in the market are convinced that the property sector can continue to grow at a similar clip going into 2016. According to Moody's, "While growth in 2016 will slow as the effect of such policies taper off, leading and financially strong rated developers should continue to gain market share and increase sales as the industry consolidates."