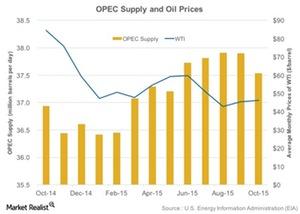 How OPEC Supply and Global Events Affect Crude Oil Prices
By Maitali Ramkumar

Updated
Correlation between OPEC supply and oil prices
Crude oil prices are affected by OPEC (Organization of Petroleum Exporting Countries), which contributes 39% to the global crude oil supply.
OPEC supplied 37.5 MMbpd (million barrels per day) of oil in October 2015. Middle Eastern producers can comfortably tweak their surplus supply capacity of 1.4 MMbpd in a scenario of demand-supply mismatch. Any change in crude oil supply affects the oil price, which in turn affects energy companies like BP (BP) and Royal Dutch Shell (RDS.A).
Article continues below advertisement
Global events, demand, and oil prices
Crude oil prices have witnessed a roller coaster ride in the past 12 months. The monthly average WTI prices (West Texas Intermediate) have touched highs of $84 per barrel and hit lows at $43 per barrel. Such a steep fall in price has come on the back of a worsening demand-supply scenario and negative global economic events. The slowdown in demand from China and Europe, coupled with rising supplies from OPEC and other nations like the US, Russia, and Brazil has tilted the demand-supply equation towards the supply side.
We discussed in an earlier part of the series that the United Sates, China, Europe, and Asia drive global consumption. Thus, they are key focus areas in order to understand expected oil demand and prices. With oil price volatility, integrated energy companies like Exxon Mobil (XOM) and Chevron (CVX) witness the dual effect of volume as well as price change on their revenues.
Plus, events like the possibility that sanction against Iran could be lifted, interest rate changes, and changing industrial and manufacturing growth rates are other factors that affect crude oil demand and prices. Thus, global events affect oil demand, prices, and energy companies' performance.
ETFs that have energy stocks in their portfolio are also affected by these factors. In October 2015, the Vanguard Energy ETF (VDE) had ~35% exposure to Exxon Mobil (XOM) and Chevron (CVX).