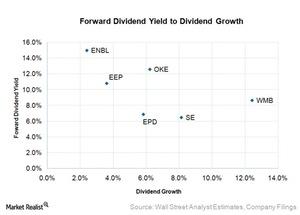 ONEOK Trades at a Higher Yield Compared to Peers
Higher forward yield
As we saw in the previous part, ONEOK (OKE) trades at a forward distribution yield of 12.6%. This is nearly 3 percentage points higher than the average for selected peers. Peers included in the average calculation are Enterprise Products Partners (EPD), Williams Companies (WMB), Spectra Energy (SE), Enbridge Energy Partners (EEP), and Enable Midstream Partners (ENBL).
OKE forms ~1.7% of the Guggenheim S&P 500 Equal Weight Energy ETF (RYE), which tracks the S&P 500 Equal Weight Energy Index.
Article continues below advertisement
OKE's expected dividend growth
The graph above compares the forward yield of ONEOK and peers relative to their expected dividend growths. Despite an expected dividend growth close to the peer average, ONEOK has a higher forward yield compared to the average for its peers.
This difference is partially attributed to the sudden spike in OKE's yield from ~9.5% on December 2, 2015, to ~12.6% on December 11. The company's high leverage, exposure to commodity prices, and suspended capital projects contribute to its poor stock performance relative to its peers.
EV-EBITDA multiple
ONEOK trades at a trailing-12-month EV-to-EBITDA (enterprise value to earnings before interest, tax, depreciation, and amortization) multiple of 12.1. In comparison, Kinder Morgan (KMI), WMB, EPD, EEP, ENBL, and SE trade at EV-EBITDA multiples of 12.3, 18.5, 13.9, 12.7, 8.9, and 11.4, respectively. OKE's EV-EBITDA ratio is slightly lower than the peer average.
As for forward multiples, ONEOK trades at a forward EV-EBITDA of 10.4. KMI, WMB, EPD, EEP, ENBL, and SE trade at forward EV-EBITDA ratios of 10.5, 11.8, 12.8, 9.9, 8.4, and 11.4, respectively.
OKE's forward EV-EBITDA multiple, which is at a discount to WMB, EPD, and SE, implies a valuation discount due to higher risk and inferior return metrics.
In the next part, we'll analyze the key factors that impact ONEOK's stock price in the long run.