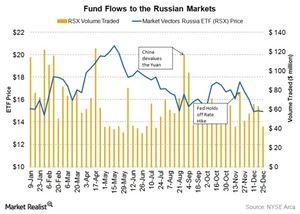 Oil Slide, Sanctions, and War in Syria: 3 Headwinds for Russia
By Surbhi Jain

Updated
3 headwinds restricting growth in Russia
The Russian economy, the sixth largest in the world by purchasing power parity, is currently facing three major headwinds to its growth. The oil price slide, the sanctions imposed by the West, and Russia's participation in the ongoing civil war in China are the major headwinds impeding growth in Russia.
Article continues below advertisement
Why are investors parking funds in Russia?
Nonetheless, we've seen funds continuing to flow toward Russia during the course of 2015, as investors have may have found it cheap by valuation: Russian equity (RSX) trades at a PE (price-to-earnings) ratio of 7 with respect to China (YINN), which trades at 9; Brazilian equity (EWZ), which is at 11; or Indian equity (EPI), which trades at a PE ratio of 14.
Also, Russia's CAPE (cyclically adjusted price-to-earnings) ratio, at 4.7, looks far cheaper than China at 14.6, Brazil at 8, or India at 18.4. What makes Russian equity even more attractive is its dividend yield. At 4.4%, dividend yield from Russian equity is at par or better than the dividend yield of China, Brazil, and India, which stand at 4.4%, 3.7%, and 1.5%, respectively.
Otherwise, investors may have found it more resistant to geopolitical shocks such as the oil price plunge. Russian equity has outperformed its peer emerging (EEM) economies in 2015, as discussed in Part 1, despite major headwinds.
We'll discuss these headwinds, along with the prospect of a reversal or continuation of these trends in 2016, as we move ahead in this series.