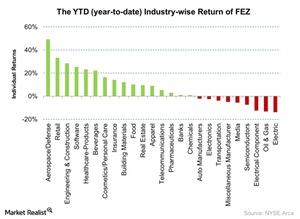 Oil and Gas and Electric Industry Weighed on FEZ in 2015
By Sarah Sands

Dec. 4 2020, Updated 10:52 a.m. ET
FEZ's industry-wise returns in 2015
As we discussed in the last part, the performance of the SPDR Euro Stoxx 50 (FEZ) was slightly negative in 2015. Most of the industries provided positive returns. Some of the industries provided negative returns in the last year. To learn details about each industry's performance, it's important for investors to analyze the industry-wise performance of FEZ in 2015.
Article continues below advertisement
Aerospace industry
The aerospace industry provided the highest positive return of 49% in 2015. Lower crude oil prices mainly drove this performance. Aerospace stock Airbus (EADSY) contributed a 49% return in the same year.
Retail industry
The retail industry provided the second-highest positive return of 33% in 2015. Retail stock Industria De Diseno Textile contributed a 33% return in the same year. Textile industries use the polymer as a raw material. A polymer is a derivative product of crude oil. So, lower crude oil prices indirectly benefit the textile industry.
Article continues below advertisement
Software industry
The software industry provided the return of 25% in 2015. Software stock SAP (SAP) contributed the return of 25% in the same year. The launch of various new products like the latest version of CRM (customer relationship management) and the cloud computing system for insurance service providers contributed the highest revenue for the company.
Oil and gas industry
The oil and gas industry provided the return of -13% in 2015. Stocks like Total (TOT), Eni (EAA), and Repsol returned -3%, -5%, and -32%, respectively, in 2015. The continuous fall in crude oil prices and increased volatility in the crude oil market impacted the performance of the above stocks. The United States Oil (USO) returned -45% in 2015.
In the next part, we'll analyze how the migration crisis impacted the Eurozone's economy.