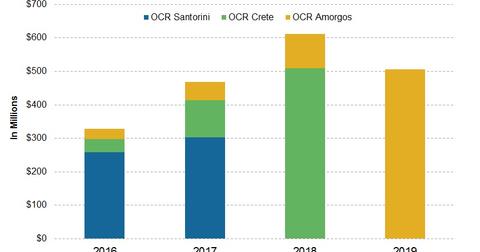 Ocean Rig Plans Capex of $329 Million for 2016
By Sue Goodridge

Updated
Ocean Rig's newbuilds
Ocean Rig (ORIG) successfully postponed the delivery of its newbuild Ocean Santorini to the second quarter of 2017. Along with this, a certain portion of its pre-delivery payment was also deferred.
Deferring or cancelling the delivery of rigs has become common in the offshore drilling (XLE) industry. Atwood Oceanics (ATW), Ocean Rig, Seadrill (SDRL), Transocean (RIG), and Ensco (ESV) are all on the same path. Ocean Rig has two more newbuild rigs in the pipeline: the Crete and the Amorgos. The expected deliveries of these rigs are in 1Q18 and 2Q19, respectively.
Article continues below advertisement
Capex requirement
Up to the end of the third quarter, Ocean Rig's total equity investment for its three newbuilds was $535 million. As the company postponed the delivery of its Santorini rig, it does not have any material capex for the last quarter of 2015.
ORIG has a planned capex of $329 million for 2016, and going forward in 2017 this will increase to $468 million. Its total capex for newbuilds up to 2019 is $1.9 billion.
The company does not have any funding for these rigs. As it is highly leveraged (which we'll see in the next article) and the offshore industry outlook remains bleak, it will have difficulty obtaining financing for these rigs.
Free cash flow
A company's free cash flow can be calculated as its capex subtracted from its cash from operations. Based on Wall Street analysts' EBITDA (earnings before interest, tax, depreciation, and amortization) and depreciation estimates, we have calculated ORIG's total free cash flow for 2016 and 2017 to be around $477 million.
The tax rate was assumed to be 23.1%, as this was ORIG's effective tax rate for 2014, Meanwhile, working capital was assumed to be zero. A positive free cash flow suggests that the company can fund its 2016 and 2017 capex through its cash flow from operations.
As we saw in an earlier article, analysts' estimates for Ocean Rig's revenue and EBITDA assume that the company will secure new contracts. So in reality, free cash flow for the company could be even lower.
It's important to assess the company's other major cash requirement, which is debt repayment. We'll analyze this in the next article.