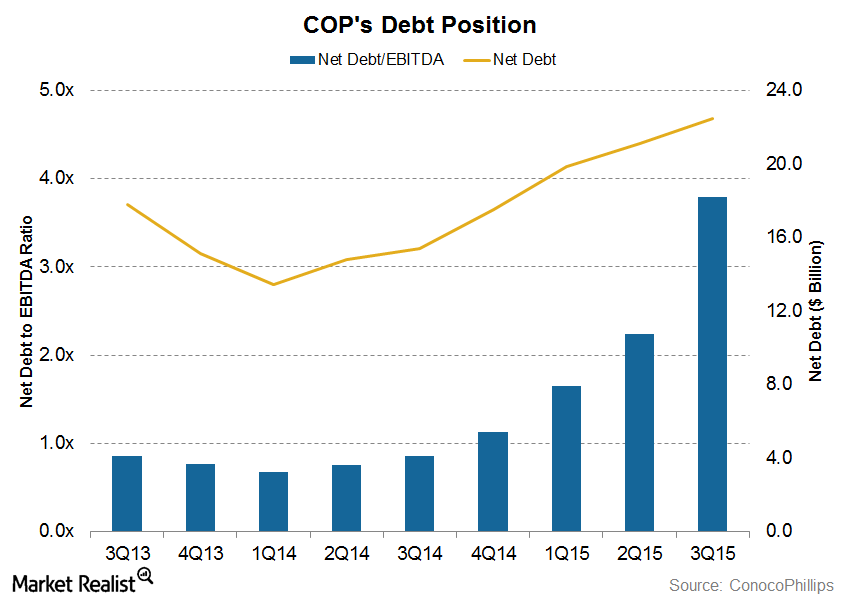 Now for the ConocoPhillips Nitty-Gritty: Debt, Cash, Leverage, and Liquidty
By Keisha Bandz

Dec. 4 2020, Updated 10:51 a.m. ET
ConocoPhillips's net debt-to-EBITDA
ConocoPhillips's (COP) net debt-to-EBITDA (earnings before interest, tax, depreciation, and amortization) was in the range of 0.6x–1.1x between 3Q13 and 4Q14. In 2015, however, its net debt-to-EBITDA multiple rapidly started increasing with its net debt. Meanwhile, the company's EBITDA began to fall due to lower commodity prices.
Looking at the above graph, we should note that while ConocoPhillips' net debt-to-EBITDA multiple remained relatively low until 4Q14, there appears to be an increasing trend since 2Q14 that corresponds with the company's increasing net debt since 2Q14. Combined with gradual drops in EBITDA in late 2014, which came due to weakening commodity prices, the company's net debt-to-EBITDA multiple started rising gradually.
Article continues below advertisement
More on net debt, peer group comparisons
Still, with sharper drops in its trailing four quarter's EBITDA in 2015, ConocoPhillips's net-debt-to-EBITDA multiple also increased sharply between quarters. In 3Q15, the company reported a net debt of ~$22.5 billion, compared to $15.4 billion in 3Q14, which represents a 46% increase. Its trailing four-quarter EBITDA in 3Q15 was $5.9 billion, compared to $17.8 billion in 3Q14, which represents a ~67% drop.
Other upstream companies including Anadarko Petroleum Corporation (APC), Apache Corporation (APA) and Hess Corporation (HES), have seen lower EBITDA levels this year compared to 2014 on account of lower crude oil prices. These companies' respective 3Q15 EBITDAs have declined by ~90%, ~65%, and ~68%, respectively, compared to 3Q14. These companies combined make up ~9% of the Vanguard Energy ETF (VDE).
Article continues below advertisement
Debt, cash, and liquidity positions in 2015
ConocoPhillips reported in its quarterly filing that it has increased its total debt by $2.4 billion so far in 2015, from ~$22.51 billion in 1Q15 to $24.9 billion in 3Q15.
However, ConocoPhillips said in this earnings conference that it didn't add any debt in 3Q15. In the third quarter, ConocoPhillips spent $7.9 billion in capital expenditures $2.7 billion in dividend payments, ending the quarter with $2.4 billion in cash.
ConocoPhillips's leverage in 4Q15
ConocoPhillips's current debt-to-equity, or leverage, is ~43%. A higher debt-to-equity ratio usually indicates higher risk as it indicates that a company has been aggressively financing its growth through debt. As we saw above, ConocoPhillips's debt has increased significantly since last year. Meanwhile, ConocoPhillips's equity has declined since 4Q14 due to losses on the heels of lower crude oil prices, which have helped push the company's debt-to-equity ratio higher.
ConocoPhillips stated in its 3Q1 earnings conference that even in this tough price environment—given it's single A credit rating—it is comfortable taking on more debt in 2016 if the company is unable to fund its dividend and capital expenses.
In the next part of this series, we'll discuss ConocoPhillips's free cash flow situation.