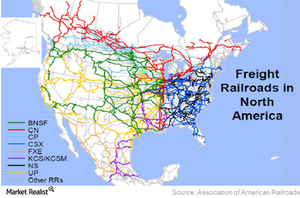 Norfolk Southern Corporation: A Company Overview
By Samuel Prince

Updated
Company overview
Norfolk Southern Corporation's (NSC) subsidiary Norfolk Southern Railway Company owns and runs freight railroad operations in the Eastern US. It transports raw materials, intermediate products, and finished products through its majority-owned rail network. Headquartered in Norfolk, Virginia, the company employs 29,460 people in the US.
Article continues below advertisement
Norfolk and Western Railway
The result of 200-plus railroad mergers in the span of 150 years, Norfolk and Western Railway (or NWR) serves 14 states and a province in Canada on more than 7,000 majority-owned road-miles. William Mahone built Norfolk and Petersburg Railroad (or N&P), the original predecessor of NWR. He eventually combined other companies with N&P and created Atlantic, Mississippi & Ohio Railroad (or AM&O).
After going bankrupt, AM&O was sold and rechristened as Norfolk and Western Railway. The company paid regular dividends, even during the Great Depression, and was profitable during World War I  and World War II.
About Southern Railway
A merger of ~150 lines since 1830 culminated in the creation of Southern Railway (or SR). Southern Railway was formed in 1894 and operated 4,400 miles of routes. By 1916, its rail lines grew to 8,000 miles and covered 13 states. SR's earliest predecessor was South Carolina Canal and Rail Road Company, launched in 1827.
In 1883, Norfolk Southern Railway Company was chartered, allowing it to serve southeast Virginia and northeast North Carolina. In 1963, SR acquired Central of Georgia Rail and in 1974, it acquired Norfolk Southern Railway Company. The Staggers Rail Act of 1980, which largely deregulated the rail industry, cleared the way for railroads to compete in the marketplace.
Article continues below advertisement
Consolidation
The 1982 consolidation of Southern Railway and rival Norfolk and Western Railway gave birth to today's Norfolk Southern Corporation. In 1999, Norfolk Southern expanded with its 58% holding in Consolidated Rail Corporation (or Conrail). The US government created Conrail out of six bankrupt railroads. CSX Corporation holds the remaining 42%. This acquisition added ~7,200 miles to NSC's lines on the East Coast.
CSX Corporation (CSX), Kansas City Southern (KSU), Canadian Pacific Railway (CP), Union Pacific (UNP), and Canadian National Railway (CNI) are NSC's major competitors. Investors wishing to hold a diverse portfolio can consider the SPDR S&P 500 ETF (SPY), which holds 0.15% of NSC, and The Vanguard Dividend Appreciation ETF (VIG), which holds 0.69% in NSC.