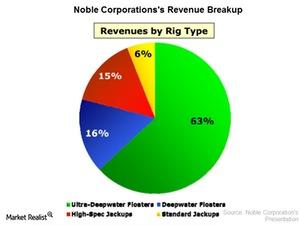 Noble: Floaters Suffered More than Jack-Ups for the First Time
Revenue by rig type
As you can see in the pie chart below, 63% of Noble Corporation's (NE) total revenue comes from ultra-deepwater floaters. Also, 16% comes from deepwater floaters and 21% from jack-ups.
Article continues below advertisement
The company's key insights
Noble's management gave some key points on the floater and jack-up segment. According to management, the floater market was very weak in 2015, but going forward, demand in the jack-up market will fall. Management added that the jack-up market—for perhaps the first time in the last 20 years—has moved lower at a slower pace than the floating segment. Normally, the floater segment is more resilient. In the jack-up market currently most of the operators are engaged in production maintenance work and there is not much exploration being done. So probably this has led to a more subdued effect relative to the deepwater sector where rates crashed very quickly.
Noble's management added that most operators in the jack-up market are engaged in production maintenance and that there isn't much exploration. So, that could have led to a more subdued effect relative to the deepwater sector, where rates crashed quickly.
Is the worse yet to come?
It seems that 2016 will be tough, just as much as 2015 was. Of course, 2016 could be a lot tougher as well, as might be inferred from Noble's outlook for the offshore drilling (IYE) industry.
According to the company, there wasn't a lot of contract activity in 2015, and this will continue all the way through 2016, and possibly into 2017 as well. The day rates will continue to fall, and could reach as low as cash operating costs. The bleak outlook suggests that tough times probably won't end soon for companies such as Noble (NE), not to mention Ensco (ESV), Seadrill (SDRL), Transocean (RIG), Atwood Oceanics (ATW), Diamond Offshore (DO), Rowan Companies (RDC), and Pacific Drillers (PACD).