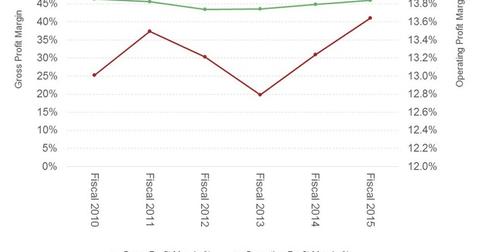 Nike's Profitability Is Expected to Expand in Fiscal 2Q16
By Phalguni Soni

Updated
Analyzing Nike's profitability expectations in fiscal 2Q16
Nike's profitability is expected to expand at the cost of the level of goods sold in fiscal 2Q16. It's expected to project 0.3%–0.5% of gross margin expansion each year from fiscal 2015 to fiscal 2020. That would imply a gross margin of 47.5%–48.5% by fiscal 2020.
Article continues below advertisement
Gross margin expansion
According to comments by Andrew Campion, chief financial officer of Nike, Nike's (NKE) gross margin is expected to leverage by 25 basis points in fiscal 2Q16. This implies margins of about 45.3%. The increase is expected to come about due to a shift in a sales mix toward the direct-to-consumer channel and inventory management initiatives in North America. These initiatives have tried to keep a flow of fresh in-line inventory and clear out older stock.
Gross margin is expected to come in at 46.5% in fiscal 2016, an expansion of 50 basis points year-over-year. This is due to Nike's better-than-expected performance in the first quarter of fiscal 2016 and its expectations for the remainder of the year. Nike's gross margin expanded by 90 basis points in fiscal 1Q16, largely driven by higher direct-to-consumer (or DTC) sales and higher average selling prices for products, primarily footwear.
Article continues below advertisement
SG&A (selling, general, and administrative) expenses are expected to rise at a slightly higher pace compared to revenue. They're expected to see a high single-digit rate increase in both fiscal 2Q16 and fiscal 2016. This is due to higher investments in DTC and digital, and higher spending on infrastructure and branding. Two key events slated in the outlook period—the Summer Olympics in Rio de Janeiro and Euro Champs—would raise branding expenditures.
Profitability drivers
Nike's higher profitability would likely be primarily driven by higher DTC sales and higher pricing in both footwear and apparel. Stronger pricing power with new launches in footwear and a premiumization focus on its wholesale channels would also likely boost profitability.
Nike's also been focusing on its women's business, recently opening several women-only stores. Premium pricing is also likely to be a key driver that would boost profitability, as its has for Lululemon Athletica (LULU). Lululemon has one of the highest margins in the apparel industry. To learn how Nike is planning to leverage this opportunity, read our article How Nike Plans to Generate $11 Billion from Its Women's Business.
Article continues below advertisement
According to Lauren Peters, executive vice president and chief financial officer of Foot Locker (FL), inventory in stores was fresh at the end of fiscal 2Q16. This will likely enable higher future pricing and improved margins. This implies that sports merchandise is moving well in stores, which will likely ultimately benefit the profitability for Nike and its peers.