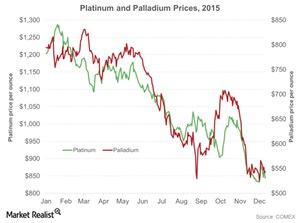 What Next for Platinum and Palladium's Southward Journey?
By Meera Shawn

Updated
Platinum and palladium fell
The prices precious metals have followed a downward trend in 2015. Gold, silver, platinum, and palladium fell 37%, 58%, 49%, and 21%, respectively, in three years. Palladium has been the most volatile and the worst performing among precious metals in 2015. Platinum and palladium are partly dependent on the Fed's decision on the interest rates. There have been other factors like the Volkswagen scandal and the underlying automobile industry's performance that have played a role in determining the two metals' prices.
The chart above shows how these two metals have been on a southward journey.
Article continues below advertisement
December's meeting
Investors have keenly set their eyes on the movement of precious metals. Platinum and palladium are most likely to follow the changes in gold and silver.
In case the Fed moves the interest rates by hiking 25 basis points, the market may expect the precious metals to plunge along with platinum and palladium. As many participants assume that the hike is already priced by the markets, a meagre rise of 10–15 basis points may leave theses metals unmoved or even cause them to fall.
The rare possibility of the Fed holding the rates at zero could certainly give a kick to precious metals and they may rise above the multiyear lows that they have been trading at in the last month.
ETFs like Physical Platinum Shares (PPLT) and Physical Palladium Shares (PALL) may be impacted significantly by changes in platinum and palladium as they take their prices from these metals. The mining-based stocks like AngloGold Ashanti (AU), Royal Gold (RGLD), and B2Gold (BTG) may also be affected by changes in precious metal prices.