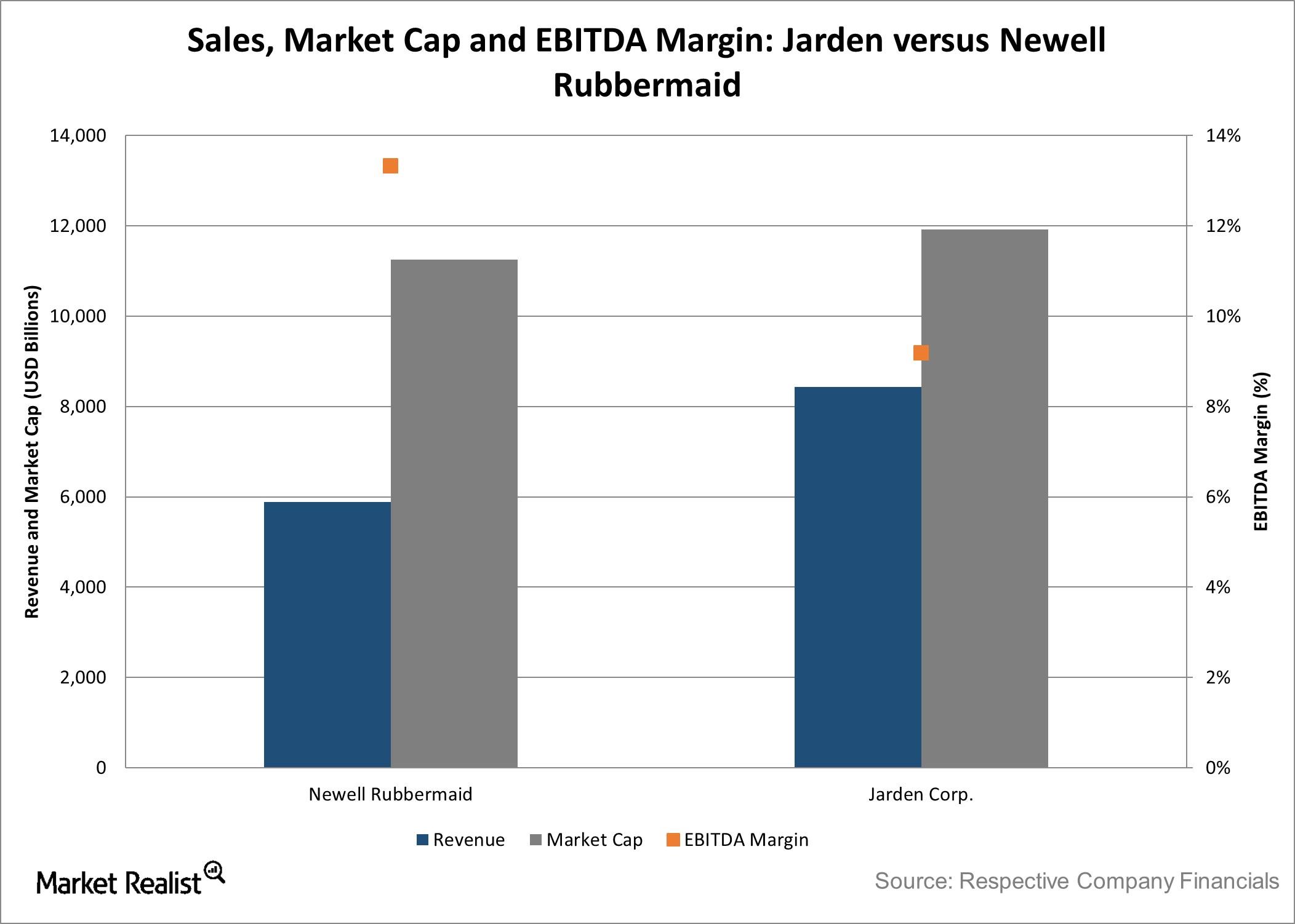 Newell Rubbermaid–Jarden Deal: Acquirer versus Target
By Sonya Bells

Dec. 18 2015, Updated 4:10 p.m. ET
Size and portfolio comparison
As discussed previously in the series, Newell Rubbermaid (NWL) has agreed to buy Jarden (JAH) for about $15.4 billion. The deal, if successful, would create a consumer products giant that would generate $16 billion in sales with a huge product portfolio.
Newell Rubbermaid and Jarden are basically consumer products conglomerates that are similar in size and characteristics. Both companies own a large number of successful brands under different product types served by a number of different selling channels.
Newell's sales for the year ending December 2014 stood at $5.7 billion. Jarden's sales, which were around 45% more than Newell's, stood at $8.3 billion for the year ending December 2014.
Article continues below advertisement
Newell had a market capitalization of ~$12 billion as compared to Jarden's market capitalization of ~$10.5 billion on December 1, 2015. However, as rumors of the deal surfaced on December 7, 2015, Newell's stock price fell while Jarden's gained momentum. Newell's market capitalization fell to $11.2 billion on December 14, 2015, while Jarden's rose to $11.9 billion.
Strategy
Jarden has historically adopted a growth-by-acquisition strategy. It has focused on using its retained earnings for new acquisitions. Newell, on the other hand, has focused on dividend payments ($0.19 per share in the last quarter) and management discipline. However, it has also been successful at acquiring brands in faster-growing categories and divesting brands with slower growth.
Article continues below advertisement
Growth and margins
As a result of Jarden's aggressive acquisition strategy, its top line growth has been more than that of Newell Rubbermaid. While Jarden's sales have grown by 10% CAGR (compounded annual growth rate) during the last five years, Newell's sales have grown by just 1% during the same period.
Margins, however, have been higher for Newell compared to Jarden. Jarden's average EBITDA (earnings before interest, tax, depreciation, and amortization) margin for the last five years has been around 12%, while Newell's has been 16%.
ETF exposure
Investors looking for exposure to both Jarden and Newell Rubbermaid can invest in the iShares Russell Mid-Cap Growth ETF (IWP), as it invests 0.6% of its portfolio in the two companies. The ETF also has exposure to Newell's competitors Temper Sealy (TPX) and Tupperware (TUP) at weights of 0.15% and 0.08%, respectively.