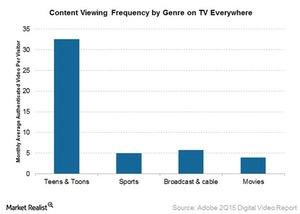 Netflix's Increasing Focus on Kids' Programming
Kids' programming
Netflix (NFLX) stated at the UBS (UBS) Global Media and Communications Conference held on December 7, 2015, that it intends to focus on kids' programming. As of 4Q15, the company offers 30 original series for kids. Netflix has offered movies and TV shows for Millennials—those in the 18–34 age group—on its online streaming service.
However, in a bid to widen its subscriber base and to appeal to a diverse audience with its content, Netflix has started exploring different programming genres.
Article continues below advertisement
The Teens and Toons genre is quickly gaining in popularity among viewers. According to a 2Q15 Adobe (ADBE) Digital Video Benchmark report, an average of 32.5 authenticated Teens and Toons videos per visitor per month were viewed on authenticated streaming services on a TV Everywhere device like Apple (AAPL) TV. This trend is illustrated in the above chart.
Why Netflix is looking at kids' programming
The rising popularity of kids' programming on authenticated streaming services like Viacom's (VIAB) Nickelodeon Nick Jr. app could have prompted Netflix to look at kids' programming on its own streaming service. Netflix stated at the UBS conference that according to its internal data, around 50% of the households subscribing to Netflix on a global basis are watching kids' programming regularly.
Netflix is investing heavily in legacy cartoons such as Popples and Glitter Force, which it considers to be important toy and entertainment brands. This is advantageous for media companies who license their kids' programming to Netflix. Children watching a cartoon on Netflix are also likely to want to buy a licensed toy or other product related to the cartoon.
Netflix makes up 0.47% of the iShares Russell 1000 Growth Index ETF (IWF). For an investor interested in getting exposure to entertainment companies, IWF has exposure of 49.98% to that sector.