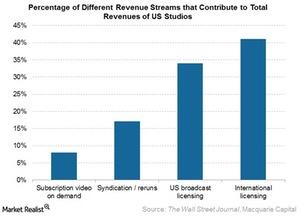 Why Netflix Believes It Isn't the "Problem" for Media Companies
Content licensing
At the UBS (UBS) Global Media and Communications Conference held on December 7, 2015, Netflix (NFLX) acknowledged that there has been a fundamental shift in viewer preferences from linear networks to SVOD (subscription-video-on-demand) platforms like Netflix. Media companies are becoming reluctant to license content to SVOD platforms like Netflix.
In November 2015, The Wall Street Journal reported that the media industry is facing a Netflix problem. The report stated that while media companies such as The Walt Disney Company (DIS) and Time Warner (TWX) are licensing content to video streaming services such as Netflix and Amazon Prime Instant Video service (AMZN). Although this generates revenues, the presence of their content on Netflix is also driving subscribers away from pay-TV.
Article continues below advertisement
Time Warner stated in its 3Q15 earnings call that it is considering at whether to retain content rights for a longer duration and either forego or delay the licensing of content. As viewers increasingly move to the digital platform, the company sees the need to provide more content for its video-on-demand (or VOD) offerings such as HBO Now.
According to another Wall Street Journal report, which cites a September 2014 Macquarie Capital report, the majority of revenue for a media company producing a television show comes from international licensing.
As the chart above indicates, 41% of revenues for a media company producing a television show in the United States comes from international content licensing. At around 34%, the second-largest source of revenue for a media company is licensing content to broadcast networks in the United States.
Netflix believes it is not the problem
At the UBS conference, Netflix stated that it believes it is being unnecessarily singled out by media companies. Netflix believes that the company came into the market as the first and major SVOD player, distinguishing itself from the traditional pay-TV companies.
With another major player entering the content licensing market, it helped media companies raise the price of its content and sell this content to the highest bidder. Ultimately, Netflix's entry proved to be beneficial for them in the long run.
Netflix makes up 0.99% of the PowerShares QQQ Trust Series 1 ETF (QQQ). For an investor interested in getting exposure to television companies, QQQ has exposure of 4.1% to that sector.