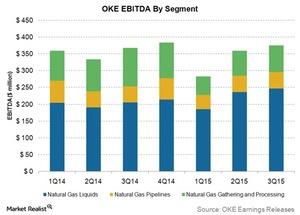 Natural Gas Liquids Segment Drives ONEOK's EBITDA Growth
By Rekha Khandelwal, CFA

Dec. 16 2015, Updated 4:08 p.m. ET
Natural Gas Liquids segment
After the separation of ONE Gas (OGS) and the closure of ONEOK's (OKE) energy services segment in 2014, OKE now operates as a pure-play general partner of ONEOK Partners (OKS). In order to analyze OKE's earnings levers, we first need to look at OKS's operating segments.
OKS carries out its operations through three reportable segments:
Natural Gas Liquids
Natural Gas Pipelines
Natural Gas Gathering and Processing
ONEOK's Natural Gas Liquids segment contributed 66% to its 3Q15 EBITDA (earnings before interest, tax, depreciation, and amortization). The segment gathers, fractionates, stores, and distributes NGLs (natural gas liquids).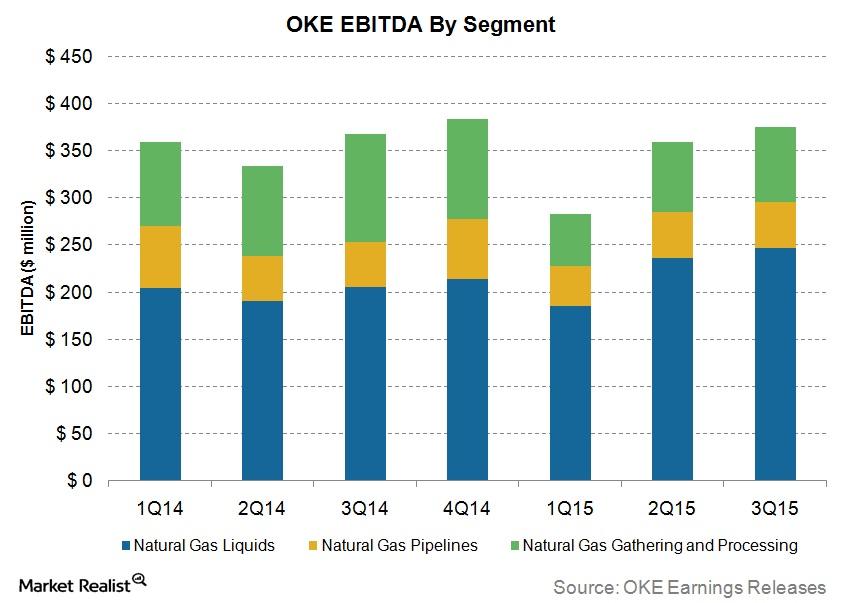 The above graph shows the segmental contribution to ONEOK's quarterly EBITDA since the start of 2014. ONEOK's natural gas liquids segment benefited from growth in volumes of NGLs gathered and fractionated during 3Q15.
Article continues below advertisement
NGLs transported on gathering lines increased ~49% compared to 2014, primarily due to volumes transported on the acquired West Texas LPG pipeline system. Newly added natural gas processing plants across ONEOK's system, including one new third-party plant connected in 3Q15, and decreased ethane rejection in the Rocky Mountain region also contributed to the volume growth.
Natural Gas Pipelines segment
ONEOK's Natural Gas Pipelines segment contributed 13% to the company's EBITDA in 3Q15. The segment transports and stores natural gas. These activities are regulated by the Federal Energy Regulatory Commission. The segment's 3Q15 EBITDA increased 3% year-over-year, primarily due to increased storage and transportation rates.
Article continues below advertisement
Natural Gas Gathering and Processing segment
ONEOK's Natural Gas Gathering and Processing segment contributed 21% to the company's 3Q15 EBITDA. The segment's percent-of-proceeds contracts expose it to commodity price risks. This has resulted in a decline in its relative contribution to ONEOK's EBITDA. The segment contributed 31% to OKE's 3Q14 EBITDA. OKE is focused on working with producers to convert its existing percent-of-proceeds contracts to include a larger fee component.
OKE expects its contract restructuring efforts in the Williston Basin to be completed substantially by the end of 2015. As a result, the segment's fee-based margin is expected to increase to more than 70% in 2016 compared to ~50% in 2015. This will reduce the company's exposure to falling energy prices in the future.
OKE forms ~1.7% of the Guggenheim S&P 500 Equal Weight Energy ETF (RYE) and ~2% of the PowerShares High Yield Equity Dividend Achievers ETF (PEY).