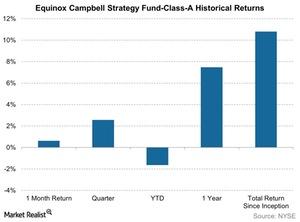 A Must-Read Structural Analysis of EBSAX
By Ivan Kading

Dec. 26 2015, Updated 7:34 p.m. ET
Mutual fund with an alternative style
Mutual funds traditionally adopt a long-only strategy in the market to achieve their investment objectives. An alternative mutual fund, on the other hand, is a modified version of a traditional mutual fund that makes use of hedge fund strategies to outperform the market.
The primary aim of any alternative fund is to gain returns higher than the market with a low-risk portfolio. They tend to hedge their portfolio risk by making use of different hedge fund strategies such as the market neutral strategy, global macro strategy, and the distressed debt strategy, among others.
Article continues below advertisement
Some alternative funds are specifically designed for short-term investments, whereas some are designed for long-term investments. The fund class gives a brief idea of the proposed investment tenure of a particular fund. The graph above gives the historical returns of the Equinox Campbell Strategy Fund Class A (EBSAX), which aims for positive returns in the long term.
Historical returns
EBSAX has underperformed in the current year, but has successfully achieved positive returns in the long run, which in this case is almost two years. The fund has given a total return of 10.8% to its investors since its inception on March 1, 2013.
Derivative holdings in portfolio
As EBSAX mimics the "managed futures" hedge fund strategy, its holdings mainly consist of derivative contracts of equities, commodities, currencies, and others. The fund also holds fixed income securities of various corporations and the federal government. It holds futures contracts of major equity indexes such as the S&P 500 (VFINX) and the FTSE 100. The S&P 500 comprises stocks such as Apple (AAPL), Amazon (AMZN), Microsoft (MSFT), ExxonMobil (XOM), and General Electric (GE). In the next part of this series, we'll analyze the performance of EBSAX.