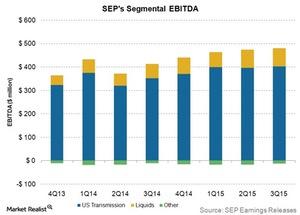 Must-Know: How Spectra Energy Partners' Segments Are Performing
SEP's segments
Spectra Energy Partners (SEP) manages its business through two reportable segments:
Spectra Energy Partners' US Transmission segment contributes nearly 85% of its EBITDA (earnings before interest, tax, depreciation, and amortization). The US Transmission segment provides interstate transmission and storage of natural gas. A substantial part of the segment's operations are subject to the FERC (Federal Energy Regulatory Commission) and the DOT's (Department of Transportation) rules and regulations.
The above graph shows segmental contributions to Spectra Energy Partners' quarterly EBITDA over eight quarters. Spectra Energy Partners is working on various natural gas storage and transmission projects.
Its Uniontown to Gas City project began delivering gas to the Midwest region on August 1, 2015. A portion of Spectra Energy Partners' OPEN project has also started. OPEN will bring an incremental supply from the Marcellus and Utica shales to the southern markets.
SEP has recently signed a number of agreements with industrial facilities and power generators, which demonstrates support for its NEXUS project. According to SEP, major contractors for the project have already been selected.
SEP continues work on its Access Northeast project, which is focused on the New England electric power market. Access Northeast involves the expansion of Spectra Energy Partners' Algonquin pipeline and an addition of storage capabilities to provide gas at times of high demand.
Article continues below advertisement
SEP intends to continue to work with New England EDCs (electric distribution companies) to provide a solution to stabilize gas supply to New England power generators. It expects to put the project into execution in the first half of 2016. The project is being jointly developed by Eversource Energy (ES), National Grid (NGG), Spectra Energy (SE), and SEP.
SEP's Liquids segment
Spectra Energy Partners' Liquids segment contributes nearly 15% of its EBITDA. The Liquids segment provides the transportation of crude oil and NGLs (natural gas liquids). Its operations are primarily subject to the rules and regulations of the FERC, the DOT, and the National Energy Board.
SEP forms 1.7% of the First Trust North American Energy Infrastructure ETF (EMLP), an ETF investing in the energy infrastructure sector.