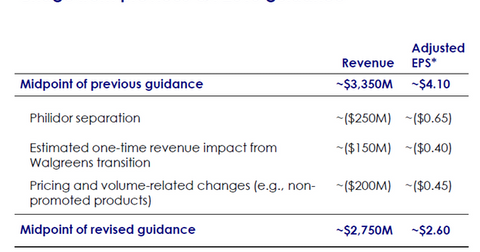 How One-Time Events Could Impact Valeant's Performance in 4Q15
By Margaret Patrick

Updated
One-time events
In addition to separation from Philidor Rx Services, other events such as the impact of the transition to Walgreens and pricing and volume-related changes also affected the expectations regarding the financial performance of Valeant Pharmaceuticals in 4Q15.
The above table shows the major factors that have led to the reduction in Valeant Pharmaceuticals' (VRX) financial guidance for 4Q15. The separation from Philidor has resulted in a negative revenue impact of $250 million, and the Walgreens transition and pricing and volume-related changes accounted for a negative impact of about $150 million and $200 million, respectively.
Article continues below advertisement
Walgreens agreement
After the termination of business ties with Philidor Rx Services on December 15, 2015, Valeant Pharmaceuticals announced that it had entered into a 20-year fulfillment agreement with Walgreens, the largest retail drugstore chain in the US. This distribution agreement will be effective beginning in the first quarter of 2016. Walgreens interacts with about 8 million people daily through 8,173 stores across 50 states in the US as well as Puerto Rico, District of Columbia, and the US Virgin Islands. In addition to Walgreens, Valeant Pharmaceuticals also plans to use other independent pharmacies for drug distribution.
Valeant has reduced wholesale list prices of its leading skin and eye-related products that Walgreens distributes by 10%. These price changes will be gradually implemented in the next six to nine months. The company will also distribute about 30 branded products that have generics available through Walgreens at a weighted average discount of about 50%. This price reduction will be effective from the second half of 2016 and will ensure that the company's branded products have similar prices in comparison to their generic versions.
Valeant Pharmaceuticals projects that these price reductions will result in savings of about $600 million for the US healthcare system. These price cuts may pressure peer companies such as Pfizer (PFE), AstraZeneca (AZN), and Eli Lilly (LLY) to reduce their branded drug prices.
Article continues below advertisement
Walgreens transition
For the distribution of its current inventory of drugs, Valeant Pharmaceuticals and Walgreens have adopted a consignment model. In this model, Valeant will continue to hold the title of the drugs and thus the complete risk of sale, until they are dispensed to patients. Under this arrangement, the company will have to credit Walgreens for any inventory that remains unsold in its 8,000 stores and distribution centers in 4Q15. Also, Valeant Pharmaceuticals expects to suffer from a one-time revenue hit, as there will be a reduction in traditional channel sales, as substantial inventories will be transferred to Walgreens.
Pricing and volume changes
Valeant Pharmaceuticals has canceled all of its scheduled pricing increases for 4Q15. Additionally, in 4Q15, the company also directly negotiated with hospitals, which resulted in a reduction in sales volumes for the company's hospital products such as Nitropress and Isuprel. These pricing and volume changes have also led to a negative impact on Valeant Pharmaceuticals' 4Q15 revenues.
Investors can reduce excessive company-specific risks yet participate in the potential upside of Valeant Pharmaceuticals by investing in the Pharmaceutical ETF (PPH). PPH invests 2.1% of its portfolio in Valeant Pharmaceuticals.