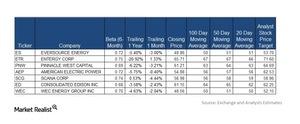 Moving Average Analysis of SPY's Utilities Sector
Utilities sector: Biggest drag on SPY
The utilities sector, represented by the Utilities Select Sector SPDR ETF (XLU), fell 1.7% on December 10, 2015. The following stocks dragged down the utilities sector that day:
All these stocks are electric utilities.
The following table illustrates the moving average values of the above stocks, along with their respective analyst stock price targets.
Article continues below advertisement
Technical analysis
The average ETF weight of the above stocks in the SPDR S&P 500 ETF (SPY) is 0.08%. As you can see in the table, the value of beta is less than 1 for these stocks, and thus these stocks are less volatile. Due to the stable nature of these stocks and the regular dividends distributed by the stocks of the utilities sector, they are also referred to as "bond proxies."
These utility stocks generally outperform the market in times of volatility. When the markets are less volatile, the returns of these stocks are low compared to higher beta stocks.
Therefore, US investors seem to trade heavily on stocks with a higher beta compared to low beta defensive stocks; namely, utilities stocks due to a less volatile condition on December 10.
The average trailing one-year return of these stocks is -2.0%. The average trailing five-day return is 0.3%. The RSI (Relative Strength Index) of these stocks is in the range of 40–60, which implies the stocks are neither overbought nor undervalued.
The average trading price of ES, ETR, PNW, AEP, SCG, ED, and WEC is $56.76. The average values of 100-day, 50-day, and 20-day moving averages are $58, $59, and $58, respectively.
As the average trading price is below the moving averages, we see a downward trend in the price movement of these stocks.
When compared to the analysts' stock price targets, the average growth potential of these stocks is 7%.
Let's look next at SPY's key stocks on Thursday, December 10, 2015.