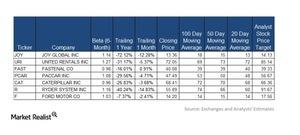 Moving Average Analysis of the Industrial Sector
Economic overview
The GDP (gross domestic product) growth rate for fiscal 3Q15 came in at 2.0%. It was in line with the consensus estimate of 2.0%, according to the report released by the Department of Commerce on December 22. In contrast, the Richmond Fed Manufacturing Index reported a burst of strength. It posted a reading of 6 for December 2015—compared to a reading of -3 last month. The report was positive news amid all of the previous factory related data that pointed towards a contraction in the manufacturing sector. As a result, industrial sector stocks rose on Tuesday, December 22. This contributed to the stocks' rally across all of the component sectors of the SPDR S&P 500 ETF (SPY).
Article continues below advertisement
Moving average analysis of the industrial sector
The above table shows industrial stocks' returns along with their respective moving average values.
The returns for the above stocks on December 22 were:
When we look at Joy Global's trailing one-year and trailing one-month return, we see that the stock yields the lowest one-year return among the listed stocks. However, the trailing five-day return, the trailing one-day return, and Joy Global's return on December 22 were 16.6%, 2.0%, and 8.0%. The stock returns are volatile. It confirms that the stocks are sensitive to the broad market movement. The value of the beta for the stock is 1.14.
As you can see in the above table, the stocks hardly traded at prices that crossed their moving average values. The only exception to this is Fastenal. It traded at $40.08. This was above its 100-day, 50-day, and 20-day moving averages. This suggests an upward trend in Fastenal's stock price movement.
Compared to analysts' stock price target, these stocks have an upward growth potential of 18%. On average, the stocks have seven "buy," 12 "hold," and two "sell" recommendations.
Next, we'll look at SPY's key stocks on December 22.