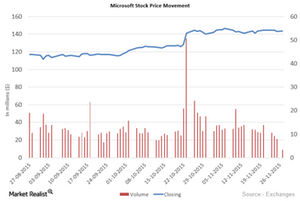 What Is Microsoft's Strategy behind Windows 10?
By Parker Thomas

Dec. 4 2020, Updated 10:52 a.m. ET
Windows will dominate by 2017
Before the rollout of the Windows 10 operating system, Microsoft announced a free upgrade from the existing Windows 7 and Windows 8/8.1 operating system. The company was expecting Windows 10 installations on over 1 billion devices. If this prediction turned out to be accurate, then Windows 10 would be the fastest growing operating system in the world.
Gartner predicts that by January 2017, around 50% of enterprises will have installed Windows 10 OS on their devices. Since Microsoft has given the free upgrade to its existing customers along with the support of its legacy system, "over-the-air," it is likely that by the end of 2015, millions of consumers will be using the latest operating system. Moreover, Gartner expects that consumer adoption will be faster for Windows 10 compared to Windows 7.
Article continues below advertisement
Why enterprises are moving to Windows 10
There are several reasons why enterprises are adopting Windows 10:
With the rollout of Windows 10, Microsoft announced that it will provide support for Windows 7 until 2020.
By 2018, all notebooks will have touchscreens that will make Windows 10 more attractive due to the improved touch experience.
Windows 10 has strong compatibility with Windows 7 applications and devices.
Demand for Windows tablets is growing.
The company is increasing its support for cloud services.
Nathan Hill, research director at Gartner, said, "Organizations will centralize a number of applications over the next three years to enable platform-independent computing as platform-specific Windows applications dip below a certain threshold and become a "manageable minority."
The PowerShares QQQ (QQQ) is a portfolio of 107 stocks. Its top four stocks, Apple (AAPL), Microsoft (MSFT), Amazon (AMZN), and Google (GOOG), constitute 13.0%, 7.4%, 5.1%, and 4.5%, respectively.