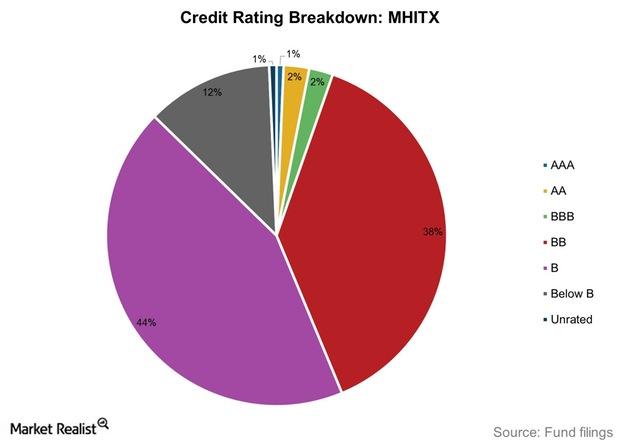 MHITX Isn't Feeling Any Pressure Right Now
By David Ashworth

Jan. 1 2016, Updated 10:07 a.m. ET
MHITX: Credit rating breakdown
The MFS High Income Fund – Class A (MHITX) is invested in bonds of companies like Hanesbrands (HBI), PVH (PVH), Goodyear Tire & Rubber Company (GT), and Activision Blizzard (ATVI), among others.
As of November 2015, 43.6% of its assets were in B rated papers. Another 12.7% of the portfolio was invested in securities rated below B and unrated papers combined. Meanwhile, 38.4% of the assets were invested into the highest rated junk bonds.
Article continues below advertisement
The fund is invested into all of the rating scales except A. Crediting rating-wise, the fund doesn't look to be in a difficult position in the present state of the junk bond market. It shouldn't get jittery even with a few defaults, even in the energy sector. The bond from the sector only form 5.2% of the portfolio. However, if junk bond spreads are an indicator of an impending recession, the fund won't emerge unscathed.
N-Q filing
MHITX filed its latest N-Q form on December 22, 2015. The information in the filing is as of October 31, 2015.
MHITX is the smallest fund among the six in this review. It has assets worth $1.4 billion. All of the investments in high-yield corporate bonds are classified as Level 2. Overall, the fund doesn't have investments labelled as Level 3. Meanwhile, 5.6% of the holdings are classified as Level 1—the most liquid. They comprise of all equity and mutual fund holdings in the fund's portfolio.
The fund seems to be in a no-worry zone as far as the liquidity of its holdings is concerned.
Overall assessment
Based on the credit rating of holdings and N-Q filings, MHITX isn't under any substantial threat. Investors should keep in mind, though, that a grim outlook on these bonds will hurt this fund as well, even after it's in relatively strong position liquidity-wise.
In the next part, we'll look at what investors can do regarding their high-yield bond mutual fund investment.