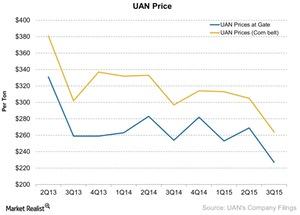 Low Fertilizer Prices Add Insult to Injury for CVR Partners
UAN prices
CVR Partners' (UAN) main product is UAN (urea ammonium nitrate). Net sales data for 3Q15 show that it sold 174,488 tons of UAN, compared with 7,811 tons of ammonia. UAN is a core product for the company, and in its most recent 3Q15 company filings, the company stated that it had substantially upgraded most of its ammonia production to UAN fertilizer, which carries a higher margin. It added that UAN "has historically commanded a premium price over ammonia." Therefore, UAN prices are critical for the company and investors.
Article continues below advertisement
UAN prices decline
UAN's overall prices have trended downwards. The above chart shows that the average UAN price for CVR Partners at gate, which excludes transportation costs, was $227 in 3Q15, compared with $254 per ton in 3Q14. Sometimes, the negative impact of low shipments can be offset by higher realized prices of fertilizers. However, the declining UAN prices during this quarter have just made a bad situation worse, considering CVR Partners' low shipments.
Silver lining
Despite the declining UAN prices, CVR Partners enjoys a premium over other manufacturers in the market. CVR Partners is located close to the Corn Belt, which gives the company a logistical advantage. The United States remains a net importer of nitrogenous fertilizer. Fertilizer from foreign suppliers comes from the US Gulf Coast, and transportation from there to the Corn Belt averages about $25 per ton, according to the company.
You may also access agricultural fertilizer companies through the VanEck Vectors Agribusiness ETF (MOO). CF Industries Holdings (CF), The Mosaic Company (MOS), and PotashCorp (POT) form 9.3% of MOO's total portfolio.
When the CVR Partners' plants return to normal operation in 4Q15, the company will resume its normal production levels, which will generate a steady stream of cash flows. In addition to the transportation advantage, the company also enjoys low production costs, which we'll look at next.