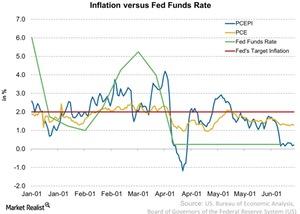 Low Inflation Could Play a Role in the Restaurant Industry
By Adam Jones

Updated
Stable prices
The second objective of the Fed's dual mandate is to encourage stable prices. This means that the prices of goods and services in the economy don't rise too quickly or too much—signifying inflation. A percentage change in the prices of purchased goods and services is how the Fed measures inflation.
Article continues below advertisement
Inflation rate
The most current reading of inflation is the PCEPI (Personal Consumption Expenditure Price Index). It includes price changes in food and energy. It came in at 0.21%. The core PCE is less volatile. It came in at 1.3%. The current inflation rate is far from the Fed's target rate of 2%. The 2% target is optimal because decreased prices—negative inflation or deflation—squeeze business profits. On the other hand, an excessive increase in prices, or high inflation, erodes consumers' buying power. This is why the Fed emphasizes seeing interest rates near the target rate of 2%.
Amid this low inflationary period, key inputs like vegetables, meat, and energy prices have fallen. This benefits restaurants. Since restaurant companies like Panera Bread (PNRA), Chipotle Mexican Grill (CMG), Darden Restaurants (DRI), and Yum! Brands (YUM) rarely reduce the prices of their menu items, falling input prices help boost their profitability. You could also access restaurant stocks through the First Trust Consumer Discretionary Alpha Fund (FXD).
Interest rates are far from the target
Last time the Fed increased the federal funds rate, inflation was hovering closer to the target rate of 2%. The current low interest rates, which are far from the Fed's target rates, indicate that there's still weakness in the economy. When the low interest rate environment puts more money into consumers' hands, consumers can spend more on discretionary items. Prices increase as a result of higher demand and lower supply.
An increase in the federal funds rate tightens the money supply. This impacts consumer discretionary spending. It impacts restaurants as well. In reality, how much does the federal funds rate impact restaurants? We'll discuss this in the next part of the series.